Manny Pacquiao reiterates desire to fight Floyd Mayweather
Last updated on .From the section Boxing
Manny Pacquiao has again expressed his desire to fight Floyd Mayweather ahead of defending his WBO welterweight title against Chris Algieri on Saturday.
Eight-weight world champion Pacquiao, 36, faces undefeated light welterweight champion Algieri, 30, in Macau.
He told BBC Sport: "My killer instinct is back and victory will be ours."
On the prospect of fighting Mayweather, Pacquiao added: "I would like it to happen. I've told him my phone line is open 24 hours, seven days a week."
Filipino fighter Pacquiao, who has won 56 of his 63 fights, with five defeats, and American Mayweather, 37, are generally considered the best fighters of their generation.
But their camps have never been able to agree a deal over a bout, with one stumbling block being Mayweather's insistence on a strict blood-testing programme during training.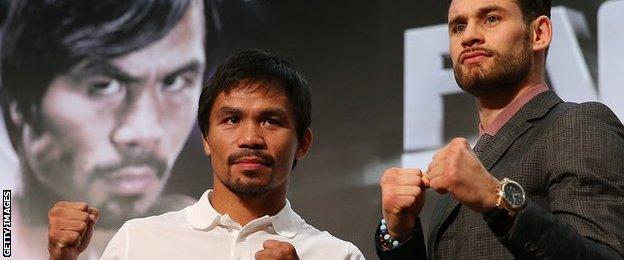 Saturday's bout is being contested at a catchweight of 144 pounds, three fewer than the welterweight limit, with Pacquiao considering a future return to the 140-pound light welterweight division if the fight with Mayweather does not materialise.
Pacquiao's trainer Freddie Roach has predicted his man will end the contest in the opening round, believing Algieri is "in over his head" before adding: "They're trying to make out like Algieri is the next Rocky. But this isn't a movie."
Pacquiao, whose last knockout was against Miguel Cotto to win his first welterweight title in 2009, was not as bullish.
"I'm motivated to make a statement by actions, not my words," he said. "I'm not predicting the fight but want to entertain people and make it a wonderful fight for the fans.
"He's young, never experienced a loss and that's why I'm excited because I love to fight undefeated fighters.
"I'm not underestimating him, he's a world champion and I have to focus but the advantage I have is my experience, power and quickness."
Algieri has won all 20 of his paid fights and claimed the WBO light welterweight belt in June despite being knocked down twice in the first round by Russia's Ruslan Provodnikov.
The former kickboxer, who also has a master's degree and ambitions to become a doctor, claims he has the ability to win at the slightly heavier weight.
"We're not worried about what Manny's going to do, we're focused on what I'm going to do," he said. "And if I fight my fight, I win."