Anthony Ogogo wants title return from Achilles tendon injury
By Chris Osborne
BBC Sport
Last updated on .From the section Boxing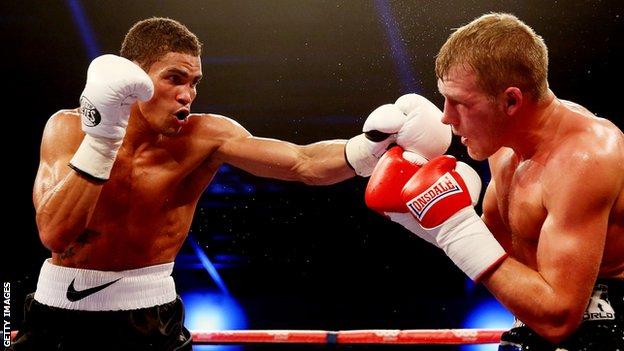 British Olympic medallist Anthony Ogogo will target a return from Achilles tendon surgery in the new year, and wants a shot at the English title.
The 25-year-old middleweight is unbeaten in seven professional fights.
"If I can be back in December, that would be brilliant but if not, January or February at the very latest," the Lowestoft fighter told BBC Sport.
"I'll definitely be looking for a first title, maybe even in my first fight. I'm ready to win the English title."
Ogogo turned professional after winning bronze at the London 2012 Olympics, and has scored four knock-out wins from seven victories.
He has yet to fight for a title, but has competed on cards set up by his promoter Golden Boy in Las Vegas and Atlantic City.
What to do with a plantaris
"He took them out and showed them to me. Right in front of me he incinerated them.
"I asked if I could keep them in a box. I know it's quite disgusting. But I could use it as fuel.
"They've been quite a nuisance to me, so I would have liked to have kept them for sentimental reasons, but he blitzed them right in front of me."
As well as the English title, currently held by Bristol's Danny Butler, 2010 Commonwealth Games silver medallist Ogogo believes he can step up to British and European level next year, and wants to be in the world title frame by 2016.
"That's what Golden Boy want, it's what I want, it's what my management want," he said.
"The future is very much bright and when my Achilles is sorted I look forward to becoming the best middleweight boxer that Britain has produced."
Since 2010 Ogogo has been suffering with a condition where the plantaris muscle - which is considered non-essential - attaches to the Achilles tendon and causes pain.
It has inhibited his training, to the point where he chose to undergo the relatively new procedure to remove the muscles last week.
"For the last four years I haven't been able to maximise my natural advantages, like my footwork," he said.
"It's something I need to do. Three or four weeks ago when I last sparred I could do six rounds. To be a world champion you need to spar for 12 or 13 rounds, and I couldn't do that because of the pain."