Broner declares himself heir to Mayweather before Maidana bout
Last updated on .From the section Boxing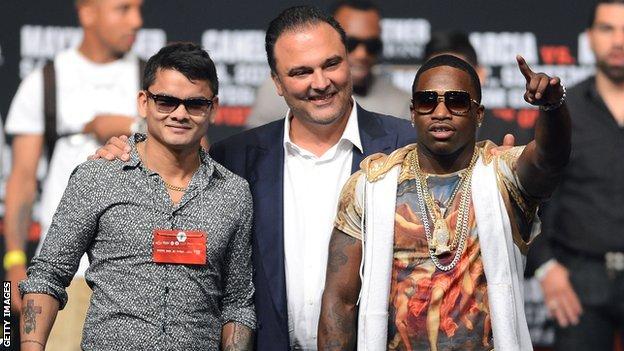 Adrien Broner declared himself the heir to Floyd Mayweather ahead of his WBA welterweight title defence against Marcos Maidana in Texas on Saturday.
"I am going to take over boxing after Floyd Mayweather," said Broner.
"We've just got to get this stepping stone out of the way. Maidana is a good fighter but he's not on my level."
Broner is undefeated in 27 professional fights, with 22 knockouts, and is one of boxing's most outspoken and polarising characters.
And while comparisons have been made between Broner and pound-for-pound king Mayweather, Maidana believes he has the tools to relieve the pretender of his title.
"Everyone knows that Broner has a big mouth,'' said Maidana, 30, who has 34 wins (31 KOs) and three defeats from 37 fights.
"But that doesn't bother me, because his mouth can't fight for him. Whether he has the guts to stand in front of me or if he runs, I'll definitely go for the KO. Either way, I'm leaving the ring with the belt."
Maidana is a former light-welterweight world champion and came close to knocking out Britain's Amir Khan in 2010, only to lose on a unanimous decision.
And Broner, who fights Maidana at the Alamodome in San Antonio, did at least admit the heavy-hitting Argentine posed the biggest threat of his career so far.
"I'm not going to lie, this is the biggest fight of my career," said Broner, a former world champion at super-featherweight and lightweight.
"Maidana's going to try to come fight me, he's going to try to break my neck. So I'm ready, I'm focused.
"It's going to be a hell of a fight. I don't go for knockouts but I really feel I'm going to knock this guy out, I'm going to be his first stoppage.
"I don't even think I've shown all of my abilities yet. Maidana is a different type of fighter and he might bring something else out of Adrien Broner the world hasn't seen yet."
Broner is in theory a future opponent for five-weight world champion Mayweather, who is expected to defend his WBC welterweight title against Khan next May.