Leo Roget: Ex-footballer turns to professional boxing
By Chris Osborne
BBC East Sport
Last updated on .From the section Boxing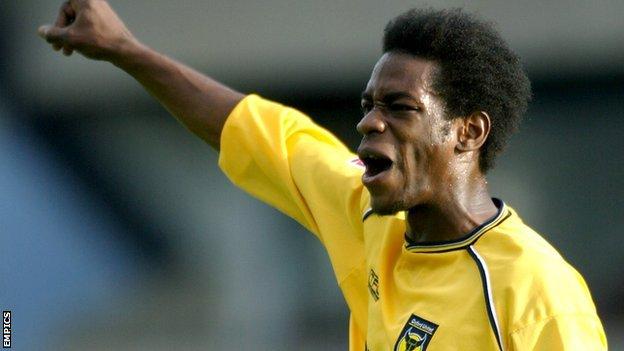 Former Southend and Oxford United defender Leo Roget will fight his first professional boxing match on Saturday at the age of 36.
Roget will follow fellow ex-footballers Curtis Woodhouse and Leon McKenzie into boxing when he competes at York Hall.
"People thought I was crazy when I retired [in 2006]. Now they think I'm even more crazy," he told BBC Sport.
"The age I'm at, people are saying 'you can't do it and look at the risks'. But I've got one life and I want to do it."
Roget, who has won three unlicensed bouts, will fight Lincoln's Mitch Mitchell this weekend - a man whose record stands at 15 losses from 18 matches - at a catch weight between light heavy and cruiser.
A centre-half during his playing days, Roget voluntarily retired from professional football aged 28 after suffering relegation to the Conference Premier with Oxford.
He later returned for short spells with Essex sides Harlow and Braintree and also played alongside Woodhouse at Rushden & Diamonds between 2008 and 2009.
"I retired at 28 simply because I didn't love the game anymore," he said.
"I lived in Spain for a year and got fat and out of condition and was an absolute disgrace.
"After that I got into personal training and then I got into the boxing.
"Since I stopped playing football I never found anything to replace it.
"There were times I found it very hard to deal with. The boxing is at least as much as an adrenaline rush and fulfilling as when I was playing.
"I'm going to go as far as I can go. I've had realistic conversations with the people around me. It's very serious. It's not a joke or a gimmick."
Roget's friend McKenzie, the former Crystal Palace, Peterborough and Norwich striker, is also fighting on the London card and is looking to make it three wins from three since his professional debut in June this year.
"The question is going to come up - will we ever fight each other?" said Roget.
"I'd do it for charity. I don't think I'd do a serious fight against him. But you never know."