Tony Bellew: Adonis Stevenson defeat prompts cruiserweight move
Last updated on .From the section Boxing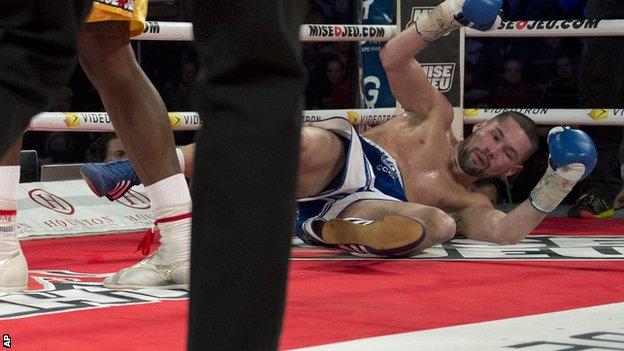 Liverpool's Tony Bellew plans to move up to cruiserweight after losing his WBC light-heavyweight world title fight with Canada's Adonis Stevenson.
"I've basically been on a diet for six years. I can't continue to punish my body the way I do.
"I think it's time for a new chapter and I'll be making the step up to cruiserweight," said the 31-year-old.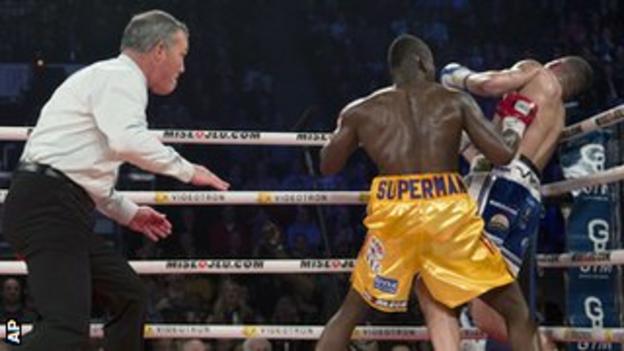 "It will be better for the fans because I'll be in much more exciting fights again. I'll be back to the old me. I want to fight the best people out there and ultimately I'm determined to win a world championship."
And he has not ruled out a possible rematch with Welshman Nathan Cleverly, the during his 23-fight professional career and who himself has
"I'm going to fight the best fighters at cruiserweight, I'm going to make it work for me and I'm going to be a force," said Bellew. "I feel I'll be much more powerful and much happier in myself. I'm excited about what lies ahead for the future."
He is convinced that he will be a much-improved fighter in the higher weight category and admitted the years of dieting had "taken its toll" on his body.
"I look at my body frame and shape compared to most guys in the division above me [cruiserweight] and I'm even bigger than them.
"The next weight up is 14st 4lbs and I've been making 12st 7lbs. It's hard and it's tough. I don't make any excuses and I lost to the better man [Stevenson] on the night," said Bellew.
"'If it's not broken, don't fix it.' That's the mentality I've had for the last six years. I kept plugging away and gone in there with the elite fighters in the division. It has taken its toll now and my body can't do it.
"I made the weight [for the Stevenson fight] on the Wednesday and I gained five pounds just eating a couple of breasts of chicken. That's how crazy it is. It's just a step too far. [Four days after the fight] I'm 17lbs heavier than I was in the ring."