Carl Froch wants bout with Andre Ward or Julio Cesar Chavez Jr
Last updated on .From the section Boxing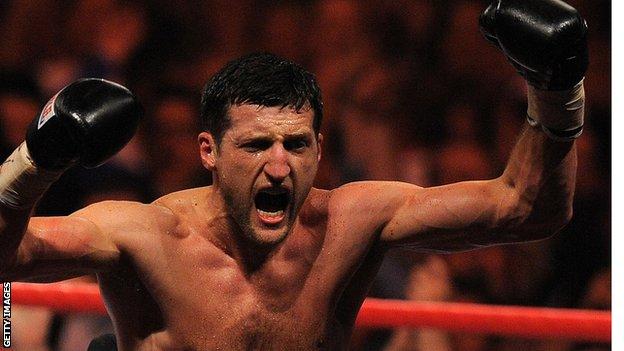 Carl Froch wants to round off his career by fighting in Las Vegas, with Andre Ward or Julio Cesar Chavez Jr his preferred opponents.
Groves wants a re-match, but 36-year-old Froch told BBC East Midlands Today: "Las Vegas is the fight capital.
"To finish in a massive fight would be better than going over old ground."
He continued: "I've boxed in America numerous times, but it would be an honour to fight somewhere like Las Vegas because I've never done that under the big lights with all the glitz and the glamour on the main stage."
Froch was on the floor in the opening round of his fight with Groves, but recovered to win in the ninth - although his younger opponent insisted the referee had been too quick to call a halt.
"As much as the fans want to see it reach a natural conclusion against George Groves, with me knocking him out again, I feel personally I gave him his chance and he blew it - he can't cut it at world level," said the champion.
"I've done my job and it's time to move on, but we'll see what happens. I'm not motivated by money, I'm motivated by securing a legacy and the love for my sport that I have."
Froch has won 32 of his 34 professional contests.
His two defeats came at the hands of Denmark's Mikkel Kessler and American Ward in 2010 and 2011 respectively.
The Nottingham fighter beat Kessler in a re-match in London in May and is now keen to avenge the only other blot on his record.
The only other fighter Froch sees as a viable alternative is Chavez Jr, son of four-time world champion Julio Cesar Chavez.
The 27-year-old Mexican has a 47-1-1 record, with his only defeat coming to Argentina's Sergio Martínez last September.
Froch said: "I've had quite a long career and there's only one name on my record that I've not beaten - and that's Andre Ward.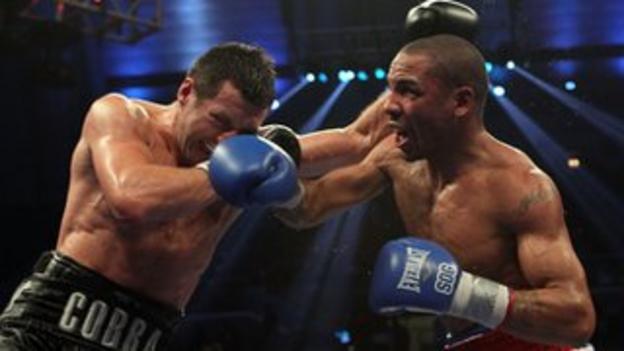 "In terms of goals and what I want to achieve before I retire, Andre Ward is on my hit list.
"There's also a guy in America called Julio Cesar Chavez, who's a great fighter. I have to speak to my promoter and speak to my trainer and see whatever makes the most sense."
Looking back on the end of the Groves fight, Froch said the referee had only had a split second to make his decision and had to be mindful of his duty to protect the health of boxers at all times.
"Because it's potentially such a dangerous sport, the referee has to make a split-second decision, which is not always what the crowd want to see," said the 2001 World Amateur Championships bronze medallist.
"At the end of the fight, when I was putting in my final combinations, the ref saw what I saw, that George Groves's eyes were rolling in the back of his head and his arms and head were slumped."
He added: "If you're not in a position to defend yourself, then the referee makes an experienced, educated and informed decision.
"Blows to the head are not healthy and it's the referee's job to make sure both fighters live to fight another day."