George Groves taunts Carl Froch over super-middleweight rematch
Last updated on .From the section Boxing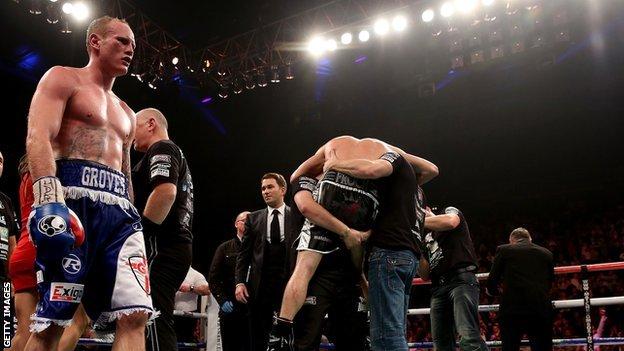 George Groves says Carl Froch will lose his "credibility" if he does not agree to a rematch between the two.
Froch retained his WBA and IBF super-middleweight titles with a ninth-round stoppage of Groves last Saturday.
However, the fight was ended controversially when referee Howard Foster stepped in to end the bout.
"His [Froch's] credibility will be shot to pieces if he decides to go a different route apart from fighting me," Groves told BBC Radio 5 live.
"Eddie Hearn, the promoter, is beside himself. He desperately wants this rematch to take place.
"I feel for boxing's sake this rematch needs to take place or Carl Froch will retire. I understand if he wants to retire. He took a hell of a lot of punches in that fight, maybe lasting punches.
"For his health, he needs to get a full check to make sure he is fit to box if that is what he decides to do."
Groves, 25, knocked down his 36-year-old rival in the opening round and dominated the fight before Froch's flurry in the ninth resulted in Foster stopping the fight.
Froch backed the referee's decision as he said that Groves was not 'defending himself' having taken some heavy blows, while the British Boxing Board of Control also supported Foster's decision.
But Groves has a different view having watched the fight again.
"I'm angry because it was a terrible decision. The fight should never have been stopped in a million years," he said.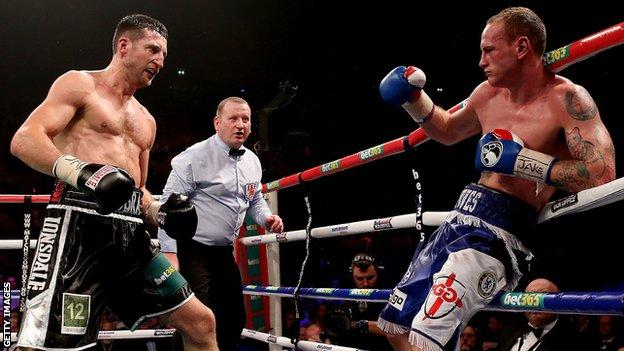 "I took a couple of punches but I was defending myself, I was evading punches and I was also punching back and landing.
"It was the first bit of success Carl Froch had in an otherwise one-sided fight.
"I controlled it from the start, I dropped him heavily in the first round and then buzzed him repeatedly throughout the rounds.
"The first time he actually landed anything of significance the referee jumped in and stopped the bout."
Meanwhile, fellow British boxer Amir Khan believes Froch should retire while he still has his two titles.
"I think a rematch will be one-sided, Groves will beat Froch," Khan told BBC Asian Network.
"I would say to Carl Froch to retire really. He is on top at the moment. There is no point risking it and probably losing on your way out.
"It is always harder to keep hold of world titles as there are hungrier fighters out there like Andre Ward and Groves, who I believe will beat him next whoever he fights."