Carl Froch v George Groves rematch is 'almost essential'
By Owen Phillips
BBC Sport
Last updated on .From the section Boxing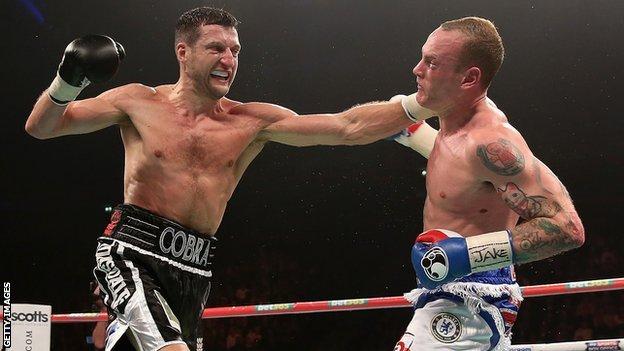 A rematch between Carl Froch and George Groves is "almost essential", according to veteran promoter Barry Hearn.
Hearn, whose son Eddie promotes both fighters through his Matchroom stable, told BBC Sport: "It argues for a rematch to put the record straight.
"Eddie and the fighters will discuss it but I'd say it is almost essential."
Groves knocked down the champion in the first round at the Manchester Arena and all three judges had him ahead after eight rounds.
But the 25-year-old challenger was in trouble in the ninth and Foster intervened - a decision described by Groves as "terrible".
Hearn Sr added: "The controversy around it from a commercial point of view sells the fight again bigger. I think both fighters would like, for their own reasons, to put the record straight.
"George Groves believes he can beat Carl Froch and Froch says he does not want people to have any doubt in their minds who is the man on the night.
"It makes a lot of sense but boxing and sense sometimes don't go together so you can never say it is a certainty.
"But it would seem to me the appropriate way forward. The warriors will decide."
The British Boxing Board of Control backed Foster's decision to stop the fight.
Hearn Sr, who has promoted nearly 600 fights, also supported the referee but felt that, on reflection, the punishing contest should have been allowed to continue.
He said: "Was Howard Foster premature in his stoppage? I thought at the time, no. Looking at the replay I think, maybe yes.
"But, and there is a huge but, I have been involved in fights where fighters have been really badly injured - Michael Watson being the most prominent - and I don't want to be involved again.
"When a referee stops a fight it's ever so easy for 'the Christians being thrown to the lions-type crowd' to want to see blood on the canvas. The fighters have to be protected from that.
"I think the phrase 'one punch too few instead of one punch too many' is always good as well."
The 65-year-old said that "as a fight fan" he could understand people thinking they were "robbed of a decision" but added: "There is one man in charge."
Hearn Sr said he appreciated Groves's disappointment and belief the fight should not have been stopped but said Froch, who insisted the referee did the right thing, may also feel aggrieved.
He added: "George Groves has a strong case for saying he should have been allowed to carry on. And for Carl Froch, possibly the greatest win of his career was thwarted by him recovering from that devastating first round to potentially stopping George Groves properly - if you like."