Carl Froch v George Groves: Board of control back stoppage
Last updated on .From the section Boxing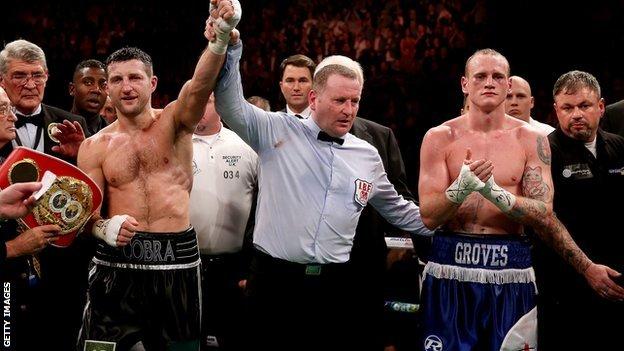 Referee Howard Foster's decision to stop the world super-middleweight title fight between Carl Froch and George Groves has been backed by the British Boxing Board of Control.
Groves, who had knocked the champion down in round one, claimed the official had made "a terrible decision".
But BBBofC secretary Robert Smith said: "I support his decision all the way."
Groves was ahead on all three of the judges scorecards in a thrilling encounter when he was pinned against the ropes by Froch and hit by a flurry of punches.
Groves, 25, managed to get off the ropes but when he took further blows Foster stepped in to halt the contest - sparking an immediate protest from Groves and surprise at the timing of the decision from many of those watching.
Froch claimed the stoppage had possibly saved the career of his opponent and the BBBofC, who oversee the appointment of officials in the UK, is backing referee Foster.
"It's sometimes very easy for people to make comments when they look at slow motion replays and analyse it after, but Howard had a split second to make that decision and I support it," insisted Smith.
"I spoke to Howard after the fight to see if he was all right, he is human after all and there had been a lot of scrutiny, but he was happy with his decision.
"I have no worries if Howard Foster had to officiate again today, he is a vastly experienced referee and he'll be working again this week and next."
Groves, whose defeat was the first in his 20-fight career, claimed the champion had received favourable treatment when put down early in the fight as a result of his "warrior image".
London-born Groves was booed when he entered the ring at the Manchester Arena but was cheered by the crowd after his fine display, with many booing Foster's decision.
"I understand the frustrations of some as it had been a fantastic contest and George was still in the fight and wanted to carry on, but the role of a referee is to decide if the fighter is safe to do so and I'd rather have one punch too few than one punch too many," added Smith.
"I spoke to George and he was understandably frustrated. He'd just fought the fight of his life but after having some time to settle down he accepted what had happened with good grace and now hopes he gets a rematch."