Rob McCracken: Meet British boxing's Dave Brailsford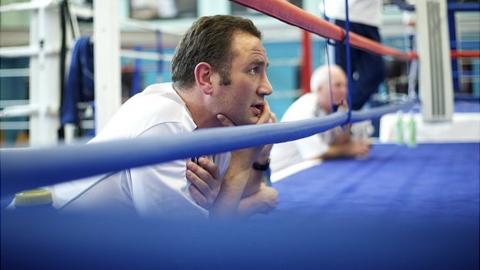 They call the man piling into the steaming tea and fat slice of cake 'The Guru'.
At least some of them do. Not the kids - they're too respectful. But his fellow coaches at GB Boxing's dream factory do. It's both a joke and a statement of fact: a joke because Rob McCracken, on the surface at least, is just a common or garden bloke; a fact because he makes fantastic things happen.
The last decade has seen the rise of the briefcase coach in British sport - not so much trainers as managers and facilitators. British cycling chief Sir Dave Brailsford calls himself a conductor; McCracken calls himself a coach. Brailsford talks about the aggregation of marginal gains; McCracken talks about hard graft.
"He's saying the same things as Dave Brailsford," says Richie Woodhall, one of McCracken's many assistants at Sheffield's English Institute of Sport. "But in a more understandable and no-nonsense way. He's a great gaffer to work for."
Brailsford's transformation of British cycling is well documented, McCracken's transformation of British amateur boxing less so. Which is a shame, because McCracken's deeds are worthy of comparison.
When Terry Edwards was sacked as GB Boxing's performance director in 2009 there was a minor outcry. In five major competitions between 2004 and 2008, Edwards's boys won five medals. This included British boxing's biggest haul for 56 years at the 2008 Olympics - one gold and two bronze.
There was much talk about the inevitable turmoil ahead without Edwards in charge. Woodhall called the treatment of Edwards "shocking".
Journalists scoffed when Edwards claimed, before the Beijing Olympics, that Britain would one day rival Cuba as the dominant force in amateur boxing. But with McCracken in charge, that is exactly what has happened.
Between November 2009, when McCracken took up the reins, and the time of writing Britain's men have won 19 medals in five majors. Britain's men and women won five medals at the London Olympics, their best showing since 1920.
When I ask McCracken the secret of his success, the 45-year-old replies: "Hard work and working with good people. And I just love boxing."
Watch him working with super-middleweight world champion Carl Froch in Sheffield - McCracken straddles the amateur and paid ranks - and you feel the love. As Froch shadow boxes, McCracken works the strings, like a puppeteer manipulating his marionette from up in the rafters.
Or perhaps it would better fit this former cabinet maker from Birmingham to see a machinist bending and shaping raw material to his will: building bases, adding compartments, tightening up joints, applying the finish.
While Brailsford has a grounding in sports psychology and science, and British rowing mastermind Sir David Tanner comes from a teaching background, McCracken is from the traditional "been there, done it" school of coaching.
"I wasn't as dedicated as I should have been," says McCracken, who boxed for England as an amateur, won British titles in two weight divisions as a professional, and challenged for the WBC middleweight crown in 2000.
"Dedication and discipline are keys to producing a tremendous boxer, regardless of what talent he or she has got. But you learn from your mistakes and every mistake I made I pass on to the boxers and make sure they don't do it."
Speak to McCracken's young charges and the reverence they have for him is palpable. "He's boxed at a very high level and has been working with Carl Froch for the last 12 years," says Scottish light-welterweight Josh Taylor, who competed for Britain at the London Olympics.
"So every bit of advice from Rob is good advice. He's very good technically and he's always on you until you get it right. He's a perfectionist. And if you've got a problem and need a bit of pointer, you can give him a call. You know he's experienced most things himself and he's very easy to talk to."
Such close bonds are an offshoot of the individualisation of GB Boxing under McCracken. And, as McCracken readily admits, this individualisation was only made possible, as with cycling and rowing, by increased Lottery funding.
"In my day it was all about training in big groups, but there weren't the funds and the staff available back then," says McCracken. "Never mind sleep specialists and nutritionists, when I boxed with Richie Woodhall for England you couldn't get him away from the buffet at team meetings.
"So my job was to get the right team in place, bring more coaches in, more support staff, which means we can have more boxers training with us.
"We've embraced sports science. The first thing I did when I came in was let these people practise their techniques, crack on with what they're trained in.
"If a fighter doesn't make it, they've only got themselves to blame. They're full-time athletes, everything is catered for on the medical and nutritional side, they're told what to do when they go home. They get every chance to succeed."
You might think such intensive training methods would lead to a standardisation of product. But, unlike out-and-out cardiovascular sports such as cycling and rowing, machines have a tendency to malfunction in boxing.
As such, the individual tailoring that is built into the GB Boxing programme militates against such standardisation. Watch Welshman Andrew Selby, another Olympian and a double European champion, spar for a couple of minutes and you see a man with his own mind, his own body, his own quirks and techniques.
"They do become almost like machines," says McCracken. "A fighter like Selby becomes so switched on he carries out things that he's practised time and time again to the letter.
"But Selby's got his own style - he's been allowed to show his flair. Our job is to get to that little computer inside his brain that's full of boxing moves and add a bit of strategy and a bit of discipline."
So McCracken has more in common with briefcase coaches such as Brailsford and Tanner than it seems on the surface. Only the presentation is different. And, as with Brailsford and Tanner, the key ingredient of McCracken's recipe for success is this love of his sport he speaks of in such ardent terms.
"I get back when I can to see my family," says McCracken, the father of four daughters who says his other big love is chocolate biscuits. "I've done about 17,000 miles in five months. But I live and breathe boxing."
McCracken's old mucker Woodhall, who knows him better than most, concurs. "What I admire most about Rob is that he is all about the programme and the boxers," says Woodhall, a former super-middleweight world champion.
"The boxers come first, before anybody else, and there's no hidden agenda. His management skills are second to none and he has respect from everyone. He's very calm and brings a lot of authority without ever losing his temper."
As Paolo Di Canio knows to his cost, unless love is bridled it can carry you off the edge of a cliff. But McCracken admits he has the opposite problem, of allowing his love to consume him so that he forgets to enjoy the benefits.
"It interests me how people react to doing well," says McCracken. "Clive Woodward told me that when England won the Rugby World Cup, for the first three or four minutes after the final whistle he was chasing the referee around the pitch, because he wanted to have a go at him about some of his decisions.
"And when Carl Froch beat Mikkel Kessler earlier this year, all I could think was 'how's that cut looking?' and 'he gave away a few sloppy ones'. So the real shame of it is that I haven't really been able to bask in success.
"I was delighted for the boxers at the Olympics. It made me smile. But it doesn't stay with you. The next day you're already trying to put things in place so that you can maintain that performance and move it forward."
Sir Henry Cooper is the only boxer to have been awarded a knighthood but that could change. Brailsford and Tanner both had the honour bestowed on them in 2013 and another successful Olympics could book McCracken, already an MBE, a second trip to Buckingham Palace. Not that he's holding his breath.
When I ask him how Sir Rob McCracken flies as a title, he laughs wearily and says: "Highly unlikely, that's how it sounds."
And with that, McCracken goes back to doing what he loves unconditionally: building bases, adding compartments, tightening up joints, applying the finish.