Floyd Mayweather writes off 'stepping stone' Saul Alvarez
Last updated on .From the section Boxing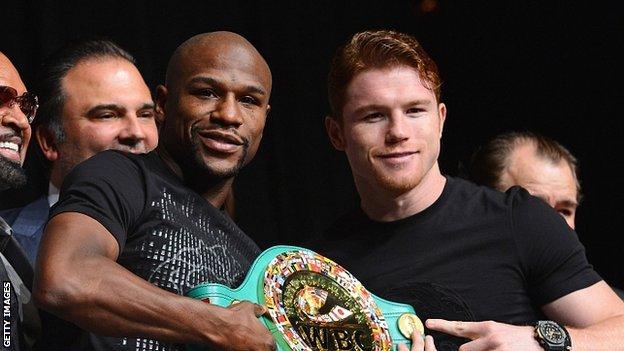 Floyd Mayweather has dismissed Saul Alvarez as just "another stepping stone" before their super-fight in Las Vegas on Saturday.
Mayweather will put his unbeaten record on the line when he meets Alvarez, also unbeaten, for the WBC and WBA light-middleweight titles at the MGM Grand.
The match-up could form part of the richest pay-per-view card in history.
"He knows he's facing Floyd Mayweather, I'm facing just another opponent," said five-weight world champion Mayweather.
"If the game-plan is to keep up pressure, I can handle it. If the game-plan is to out-box me, nobody can out-box me.
"You have to be able to out-match me mentally, and I'm the strongest mental fighter in the sport of boxing. I've been here before so I know what it takes.
"He's 42-0 [Alvarez also has one draw], but he hasn't faced 42 Floyd Mayweathers, otherwise he'd be 0-42. I'm at the pinnacle. I'm the face of boxing."
Widely regarded as one of the best defensive fighters of all time, Mayweather has compiled a flawless professional record of 44-0 over a 17-year professional career.
And the 36-year-old American, who is guaranteed a record £26.4m, is a big favourite against his 23-year-old Mexican rival, who is set to pocket £7.9m.
However, promoters Golden Boy are hoping two million American homes will buy the fight which, at £47.50 a go, would make it the most lucrative pay-per-view fight ever.
Currently the richest fight is Mayweather's 2007 victory over Oscar de la Hoya, which was bought by 2.7m homes.
"Saturday could be a $200m (£126.7m) night," said Golden Boy chief Richard Schaefer. "Boxing is hardly a dying sport."
Schaefer claimed the fight is such a hot ticket for celebrities that they are asking to buy tickets instead of receiving them for free, as is the norm.
Basketball legend Magic Johnson was apparently turned down, as was current NBA superstar Kobe Bryant.
Meanwhile, Alvarez is excited about the prospect of becoming the first man to beat Mayweather as a professional, especially given the fight takes place on Mexican independence weekend.
"I don't care about his record," said Alvarez, who made his pro debut as a 15-year-old. "I'm not coming to make a good fight, I'm coming to win.
"I've studied him. I know his style and I know what he's going to do. I'm confident I will win because I know everything about him. I've prepared for everything."