Leon McKenzie: Boxing better than scoring, says former footballer
By Robert Stevens
BBC London & South East Sport
Last updated on .From the section Boxing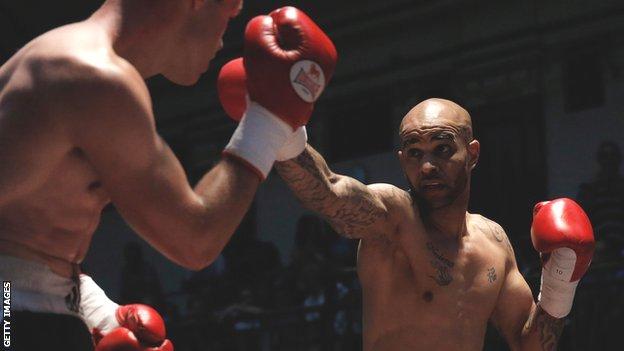 Former footballer Leon McKenzie says his pre-fight ringwalk ahead of his debut as a professional boxer on Saturday night was a great moment.
"That is the best feeling I have ever had," the much-travelled striker told BBC London 94.9. "That beat any goal I scored, if I am totally honest.
"When I was walking out I felt calm, cool and felt I was at home," he added.
"We've been hitting so hard in training I knew that it would hurt anyone I hit.
"It was an overwhelming debut. I thank all the support and I thank God."
McKenzie scored 115 goals in 405 games for eight different clubs, including Crystal Palace, Peterborough United and Norwich City, before retiring from professional football in 2011.
Asked whether he wished he had made his pro debut sooner, McKenzie replied: "I had a fantastic football career. I don't look back and regret anything.
"This is my time now to do what I am doing.
"How long it takes we will see but I can only go by each fight.
"Hopefully we will fight again in September. I will have a week off and then we will get back in the gym."
McKenzie has been trained by his father Clinton, the former British and European light-welterweight champion, and his uncle Duke, the three-time world champion.
"You wouldn't have thought that was his first fight," Clinton told BBC London 94.9. "He looked absolutely amazing.
"We were emotional after the amount of work we put into him but we were very nervous about how he was going to perform.
"We didn't want the occasion to get to him and for him to be overwhelmed by all the excitement, but he took it in his stride and he boxed to orders. I can't really fault him.
"In the first round he shook off all the cobwebs, found his distance and then found he was starting to enjoy himself."
The bout at Bethnal Green's famous York Hall reminded Clinton of his own career in the ring and he now hopes that they can follow up Leon's debut with further success.
"It brings you back to your first fight and how it was," he added.
"It must be a lot harder for Leon as he has had no amateur experience and it is his first time in a professional boxing ring. It is a big deal.
"He's a crowd pleaser and people warm to him. He has got everything for success.
"We have got high hopes for him but we can't run before we can walk.
"We have got a long way to go and there is lots to learn.
"I know we haven't got a lot of time so we will do what is best for him."
Interviews by BBC London 94.9's Jamie Reid