British Lionhearts withdrawn from next World Series of Boxing
Last updated on .From the section Boxing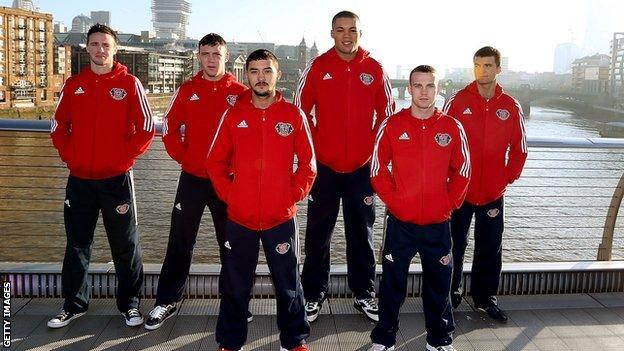 The British Lionhearts amateur boxing franchise will not enter the next World Series of Boxing competition.
This year's WSB saw the Lionhearts enter for the first time, with the team progressing to the quarter-finals.
The British Amateur Boxing Association said it was withdrawing the Lionhearts for financial reasons.
A BABA statement said: "We are not in a position to underwrite the costs or take on the financial risks of running a British franchise."
The Lionhearts faced five other nation-based franchises from Ukraine, USA, Italy, Germany and Kazakhstan in a group stage of home-and-away ties that began in November 2012.
Five wins and five defeats secured progress to a two-leg quarter-final against Mexico Guerreros, but a 4-1 win for the Lionhearts at home was followed by a 5-0 defeat at altitude in Foro Polanco in late March.
WSB involves nation-based franchises, in two groups of six, competing against each other over the course of a season. Boxers compete as professionals but retain their Olympic eligibility, while also being allowed to compete in World and European championships, Commonwealth Games and other traditional events.
The 2012-13 WSB was the third edition of the competition developed by amateur boxing's governing body, the International Boxing Association (AIBA).
It was the first time a British franchise had been entered, with the Lionhearts featuring Olympic medallists in Wales' Fred Evans and Ireland's John Joe Nevin.
BABA said it could not take on the additional costs of entering the competition again as it had a responsibility as a largely publicly funded organisation.
It added: "We have been in discussions with World Series Boxing and have come to the agreement that there will not be a British franchise in the next series of WSB which begins towards the end of 2013.
"We are very supportive of the World Series of Boxing and felt that the participation of the British Lionhearts in last season's competition was a great showcase for the sport and a good experience for our boxers."