Successful defence could lead to New York bout for Ricky Burns

By Phil Goodlad
BBC Scotland
Last updated on .From the section Boxing15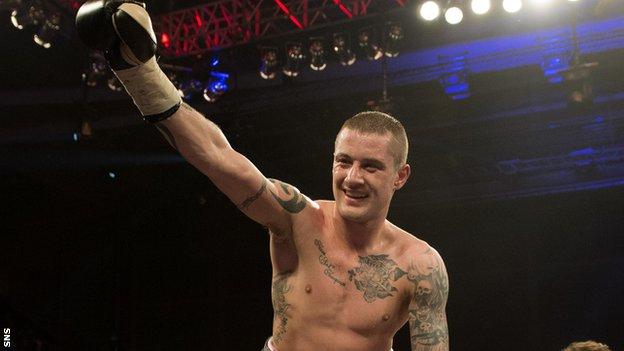 Ricky Burns will face Mexican fighter Raymundo Beltran on 7 September as he seeks to defend his WBO world lightweight title.
And a win for the Coatbridge boxer in that bout at Glasgow's SECC could mean a title defence in New York next year.
Talks, led by his promoter Eddie Hearn, have already taken place for Burns to appear at Madison Square Garden in January or February of 2014.
Burns said it would be a "dream come true" to fight in the United States.
However the 30-year-old refuses to be distracted by that prospect at the moment and wants to focus on beating Beltran, who is a chief sparring partner of boxing legend Manny Pacquiao.
"If I don't get by this one, these other fights they're talking about aren't going to happen," said Burns.
"We've jumped straight in at the deep end and started sparring right away.
"He is a very, very good fighter and we're expecting a hard fight."
Burns previously successfully defended his title against Jose Gonzalez in May, after the Puerto Rican retired at the end of the ninth round.
But there were suggestions he trained too hard for that contest.
"We had trained for nine months and a few fights had fallen through," explained Burns.
"The training went well, but obviously training for that long, without a break, I did feel a difference come fight night.
"After the second round I was getting caught stupid punches. You could see I was forcing my work out and lunging in, whereas I should've been countering and drawing the lead off of him. We've learned our lesson."
Although not a unification fight, Burns is pleased to be boxing on a more regular basis, with another bout in the offing for November before any potential trip to America.
Burns could make it a fourth WBO world lightweight title September, just weeks after his wife is expecting their first child.
"It was just one of those things," he mused. "She's due August we're just hoping she doesn't go [into labour] too late!"