Jamie Cox defies medics to return to ring after injury
Last updated on .From the section Boxing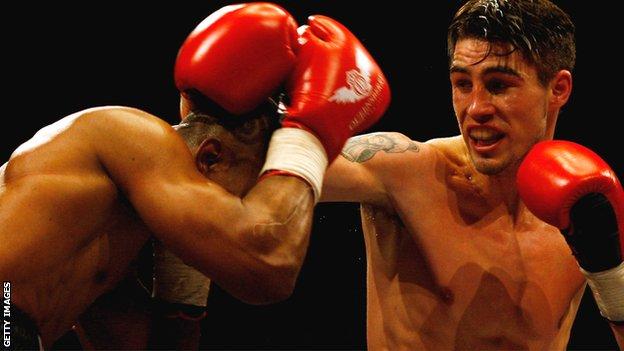 Former Commonwealth Games gold medallist Jamie Cox says he did not believe he would box again after fracturing his hand 21 months ago.
The Swindon light-middleweight, 26, will return in front of a hometown crowd at The Oasis on Saturday.
The bout against Frenchman Matiouze Royer, 27, will be his Cox's first since his Commonwealth title win over Ghana's Obodai Sai in September 2011.
He told BBC Wiltshire: "I didn't think I'd get back into the ring."
Cox broke his left hand while landing a blow on Sai during their title fight.
The injury was so serious that specialists, including Joe Calzaghe's doctor, said he would never fight again.
"When I took my glove off after the fight, my hand was like a bowling ball," said Cox. "Even Frank Warren said it was the worst hand he'd seen in all his years in professional boxing.
"I remember the shot that did it. I hit Obodai on the forehead. He was a tough, tough guy. I don't think I'll meet a tougher opponent for a long while yet.
"It was a big shock, to say the least, to hear someone say they couldn't fix your hand. When Joe Calzaghe's hand specialist said that, obviously he's a top guy and you just have to think to yourself 'where do I go from here?'. I got a little bit depressed.
"I couldn't even open jars so I knew my hand was in a bad way and I didn't want to make it worse."
But successful treatment by hand surgeon Mike Hayton, along with encouragement from his mother, Belinda, gradually enabled Cox to contemplate a return.
"I've missed fighting in a big way," said the 2006 Commonwealth Games champion. "I do it for my mum, my sister and my brother. Mum's the head of the family now and I look to her for a bit of advice and motivation as well as my friends.
"Last year, I didn't think I was ever going to box again. I met a good surgeon, Mike Hayton in Manchester. He fixed it and my hand started getting stronger as I began working and here I am now going back into the ring.
"I always wanted to try and see what I could achieve in this sport, so I'll give it 100% again and see where I can get."
Cox, who has won all 16 of his professional fights, will meet Royer - yet to be stopped in a 20-fight career - in a six-round contest.