Boxer Willie Limond taking time out after Mitch Prince bout
Last updated on .From the section Boxing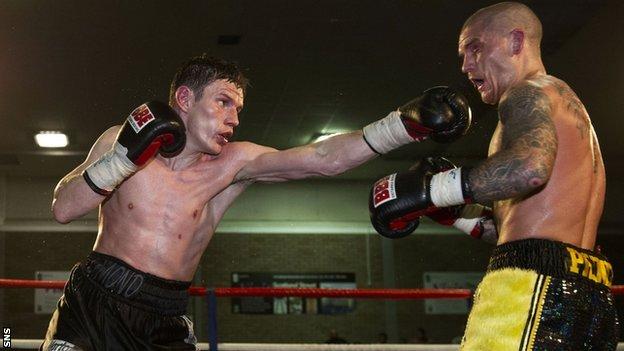 Scottish Boxer Willie Limond will take time to recover before deciding on his next fight.
However, promoter Tommy Gilmour insisted his charge would take some time to rest after the gruelling fight before thinking of his next challenge.
"It was one of the best fights seen in Scotland for a long time. Willie will have a few weeks to recover," he said.
The Glaswegian ended the 12-round encounter, which he won on a unanimous points decision, with two burst ear drums and a broken hand.
"We knew Willie had perforated his left ear drum in the second round but as it turns out he has two perforated ear drums and a broken hand," said Gilmour.
"So it was very much a war he was involved in with Mitch Prince who showed he could fight against higher quality."
Gilmour also revealed that a defence against Aberdeen's Lee McAllister, who vacated the title last year, could be a possibility later in the year.
"McAllister is a possibility for the next fight but whatever is arranged, Willie won't be fighting until October anyway," he added.