Bradley Saunders: Sedgefield boxer over hand injury worries
Last updated on .From the section Boxing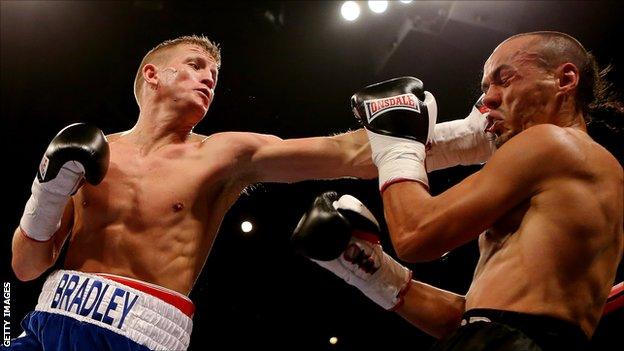 For a boxer hands are everything, and Sedgefield light welterweight Bradley Saunders was prepared to do whatever it took to get his fists back to fight-readiness.
Having initially undergone surgery to correct a problem with metacarpal bones before the Beijing Olympic Games in 2008, Saunders' last professional bout threatened to be his final one when the procedure failed.
A left hook to opponent Peter McDonagh re-shattered the bones, and prompted an expensive operation to save his career.
"It cost a few quid, but with my lifestyle I don't know anything else. I've boxed since I was 11 years old, won my first British title when I was 11, so I've stuck at it," Saunders told BBC Tees.
"Mike Hayton - who's one of the best hand surgeons in Europe, if not the world - said he could do something.
"I had a bone graft from my hip and fused my hand together, so now it's one solid bone instead of lots of little bones."
The 27-year-old's career has see-sawed, taking in the highs of an Olympic appearance and Amateur Boxing Association titles as well as the lows of charges for drug possession that were dropped and the injuries that have stalled his progress.
However an unbeaten start to his professional career is evidence of his talent, and he is now fit for a July bout against a yet-to-be-confirmed opponent at Wembley Arena.
"I've been through a lot," Saunders continued. "I've been hard on my boxing and it's affected my family life, boxing is my life.
"I'm going to be busy this year, Frank Warren says I'm one of his main lads, obviously some of the fighters have left but some have had their contracts handed back. he's kept a select few that he thinks he can get to a world title shot.
"Everything he's promised me he's delivered. He said whatever comes up for grabs that we think you're capable of winning, you'll get it."
Bradley Saunders was speaking to BBC Tees's Mark Drury.