Prince aims to steal Limond's crown

By Keir Murray
BBC Sport Scotland
Last updated on .From the section Boxing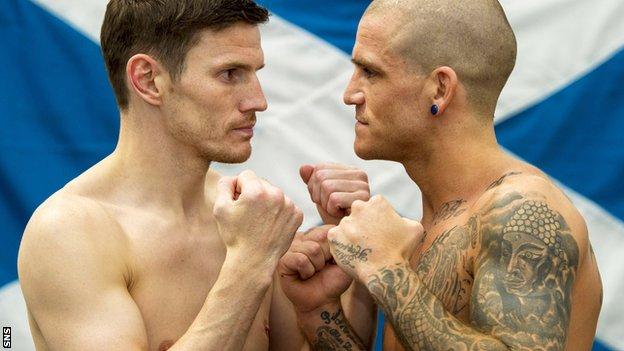 Like two of Scotland's boxing champions, Ken Buchanan and Scott Harrison, Willie Limond and the challenger for his Commonwealth light-welterweight title on Friday, Mitch Prince, are joiners to trade.
But while a poorly directed hammer strike could break a thumb, defeat for either boxer at Glasgow's Bellahouston Sports Centre is likely to cause even greater pain.
At 34, Limond, from the city's east end, cannot contemplate losing to Cumbernauld's Prince, who is five years his junior.
In his 15th year as a professional fighter, with 36 wins from his 40 bouts, losing his belt might signal the end of his career.
But the lively Limond has heard that one before.
Few could have predicted that he would be a Commonwealth title holder by now. It's six years since he lost to Amir Khan and three years have elapsed since he was stopped in front of tens of thousands of noisy fans by Erik Morales in Mexico City.
It's little wonder he greatly enjoyed his first-round whirlwind stoppage of Eddie Doyle last year to claim his current title, which he will now defend for the first time.
Limond told BBC Scotland: "In the fight with Eddie, I wasn't planning to come out like that.
"I just looked across the ring and thought HE was going to come out like that!
"I caught Eddie with telling punches and won the title so the hard work now begins.
"Mitch is coming to try to take my title and I'm not allowing it. It could be interesting.
"He keeps saying he's younger but he's 29! He's not that much younger than me!
"I'm looking forward to proving I've still got the legs, the heart, the hunger to beat these younger guys that want to come and take my title."
And Prince certainly wants to claim Limond's title. Indeed, he views it as his big chance to take his career to an entirely new level.
In his 13 fights since turning pro after representing Scotland at the 2006 Commonwealth Games, he has yet to face anyone with Limond's pedigree.
Prince moved to Scotland from his native South Africa at the age of eight, five years after his father's sudden death.
At 14 he joined Broadwood Amateur Boxing Club and had a distinguished career, culminating in representing his adopted country in Melbourne.
After turning pro and joining Motherwell's Forgewood club, with manager and promoter Tommy Gilmour, his spell in the paid ranks began brightly.
But the death of Prince's trainer sapped his enthusiasm for a period a few years back before his love of boxing was reignited by coach Jim Love, who has been using the 60 steps at Wishaw train station to build stamina.
"Jim has got me in incredible shape so I'm raring to go," said Prince just ahead of the weigh-in.
"He lives in Wishaw and he has had me running up and down the stairs at the station. It's a 45-minute session, quite intense.
"I'll take victory at any time but I'm ready to do the 12 rounds. There are no corners being cut.
"It's the biggest fight of my career to date but the first of many, the way I see it. I'm wanting to get this title and move on to bigger and better things."
The champion's age and 244 rounds of competitive boxing features in Prince's assessment of his opponent.
He said: "I think it's going to make a big difference, him being 34 and being in a lot of hard fights in his career. I'm still young and fresh.
"Whether or not he had a tremendous performance against Eddie Doyle, I'm not Eddie Doyle, I'm going to bring a whole different game.
"I've fought all over the world in a lot of hostile situations. You just have to learn to weather the storm or meet it head on."
In sparring sessions with Craig Kelly, Charlie Flynn, Jordan McCrory and Stirling's George Thomson, Limond feels he was "pushed to the limit", though he admits the 10st light-welterweight bracket allows for "a wee cushion" when compared to his days as a gaunt 9st 4lb fighter, then as a 9st 9lb lightweight.
"Nobody really saw me when I trained before," he said.
"All I did was train, sleep, train, sleep. It's still regimented but it's not as Spartan. At least people see me now. I can have a few treats now and again.
"The extra 5lb does make a difference."
So if he can make a successful first defence, what does the future hold for Limond?
"I'm not looking beyond this fight. Mitch Prince has my full attention," came the response.
And that, perhaps, is how a career that began in the previous century can still be producing title fight nights like the one the fans will witness at Bellahouston.