UK Sport chairman Rod Carr warns British boxing over row
Last updated on .From the section Boxing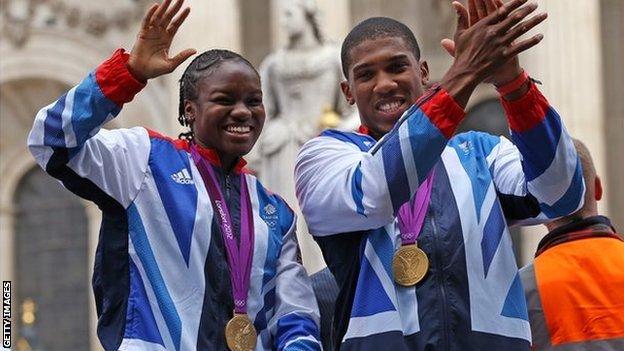 New UK Sport chairman Rod Carr says the infighting within the British Amateur Boxing Association (BABA) means it is letting down the people it represents.
And Carr told BBC Sport: "They are putting their own interests over and above those of their athletes and coaches. I think that's reprehensible."
UK Sport has set BABA a deadline of 10 June to address its governance issues.
BABA has seen a funding increase to £13.8m in preparation for the 2016 Rio Olympics, following a record haul of five medals - including three golds - at London 2012.
But Derek Mapp, chairman of BABA, was voted out of his post at an extraordinary general meeting tabled by Amateur Boxing Scotland at the end of May.
Mapp had the support of the Welsh Amateur Boxing Association but England and Scotland voted against him, with Scotland unhappy at their lack of representation in Team GB.
Carr repeated UK Sport chief executive Liz Nicholl's threat to divert Olympic funding from BABA unless it resolves its differences.
"I hope it will work itself out," Carr added. "We hope that the people that are in power and have got a fractured relationship with each other will see sense and come together and have a workable, legal and progressive solution to their governance issues.
"If by 10 June they are still in this fractious, argumentative frame of mind where they are not providing proper governance for the sport, then we will enact what is called a special purpose vehicle.
"We will actually put in the legal framework to protect the interests of the athletes and the coaches and the performance director who is dealing with them, because the last thing we want is a huge disruption to their schedule, having nowhere to live or train.
"We are not going to take over boxing but we're going to secure our interests in it for as long as it takes for boxing to get their act together and see sense."
Carr, who succeeded Baroness Campbell to his new role earlier this year, says his overall aim is for Team GB to win more medals across all sports at the 2016 Olympics than the 65 they managed in 2012.
He explained: "We had a home Games and, if we meet our goal, which would be to win more medals in 2016 than we did last year, then that would be the first time anyone has done that.
"But we would not be saying it was a target if we did not think it was achievable.
"We think there are a number of sports that are ready to step up with the big boys, the ones people might regard as our bankers [for medals]. If they do that, we will meet our target."