Leon McKenzie: Boxing career for ex-Norwich City striker
Last updated on .From the section Boxing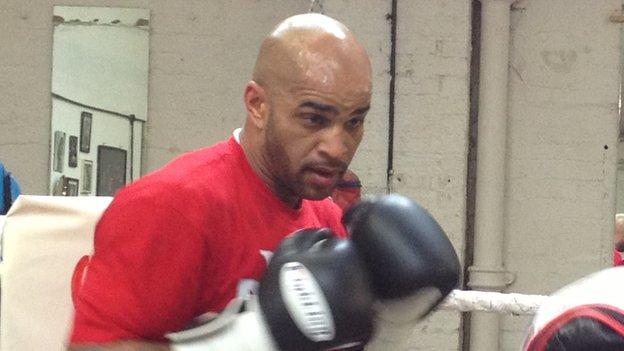 Former Norwich City striker Leon McKenzie will make his professional boxing debut at the age of 35.
McKenzie scored 115 goals in 405 games for eight different clubs before retiring as a professional in 2011.
His uncle Duke is a former five-time world champion and father Clinton was a British and European title holder.
"I wouldn't be coming into it just to get out again," he told BBC East Sport. "I'm 35, so I can't do it for long, but I believe I can achieve something."
He added: "I've got through months and months of training camp, getting up at five in the morning for runs. I'm doing what I've got to do."
McKenzie, who started his career at Crystal Palace, played in the Premier League with Norwich in 2004-05, and had spells at Fulham, Peterborough, Charlton, Coventry, Northampton and Kettering.
while playing and served a jail sentence last year for
"I sort of lost my direction a little bit. When I had that time incarcerated I asked myself a lot of questions," he said.
"When I came out of there it just came to me and I just wanted to fight.
"I'm sparring with professionals now and coming out on top and that gave me the confidence to have a go at it."
An opponent has yet to be named for Croydon-born McKenzie's debut at York Hall on 29 June.
But he has been preparing with 2008 Olympic gold medallist and current WBC silver super middleweight champion James DeGale, as well as British middleweight Richard Williams.
"Trust me they've hit me hard - to the point of seeing stars," said McKenzie, who will be fighting at super middleweight.
"It feels amazing. I've been hit and I've been hurt. It's a great experience for me and I held my own.
"As much as I've taken a few, I've got the ability to bring some as well."
A follow-up bout is in the works, with the possibility of a contest in Norwich on 15 September.
"It all depends how the first one goes," he said. "If I come out unmarked we will be fighting in Norwich in the middle of September."