Dillian Whyte: Scapegoat for sport's supplement generation?
By Matt Slater
BBC sports news reporter
Last updated on .From the section Boxing81
Five months ago, Dillian Whyte packed his bags for a training camp, said goodbye to his family and told them the next time they saw him, he would be the English heavyweight boxing champion.
Two weeks later, on his way to a news conference to publicise his title fight, the 24-year-old received a phone call: it was UK Anti-Doping (UKAD).
The banned stimulant methylhexaneamine (MHA) had been found in a urine sample he had provided after his victory over Hungary's Sandor Balogh on 13 October. That had been the ninth straight (and straightforward) win of a promising professional career.
"I broke down crying, it was such a shock," a still shaken Whyte admitted this week.
"It was my biggest fight, one I'd been training hard for - I'd put a lot of money and time into it.
"I'd left my family at home and I wanted to come back to them as English champion, which would have changed my life and theirs.
"When I got the news, I thought 'oh my God, I can't believe this' - it was one of the worst feelings I've ever had in my life."
The positive test meant he was immediately given a provisional ban, so no title shot, and in January an anti-doping tribunal gathered to set a finish date for that suspension.
Unfortunately for the amiable south Londoner, that date is 12 October 2014 - the tribunal deemed his offence serious enough to warrant the full two-year penalty. That win over Balogh would be wiped from his record, too.
Whyte appealed against the decision, but last week learned this too had failed.
Despite the fact that both the original and appeal panels believed his story of inadvertent doping, they felt he had not done enough to guard against the risk of an accidental positive.
Under the guiding principle of "strict liability", elite athletes are responsible for anything found in their samples, and if a substance turns up that should not be there, they must demonstrate they took every possible measure to prevent it happening.
Whyte's story, from which he has never deviated, is simple and depressingly commonplace.
A trusted member of his gym in Brixton suggested he try the supplement everybody was talking about, Jack3D.
Manufactured by USPlabs, Jack3D is marketed as "the original, university-studied, ultra-concentrated pre-workout and energy supplement". It is readily available on the high street and internet, and is massive in gyms all over the world.
Shortly before his fight against Balogh, Whyte bought a tub of the flavoured powder at a shop in north London, and he mixed this powder with water, as per the instructions, to make a pre-workout drink.
The problem for Whyte - and British boxers Ryan Barrett, Tony Dodson and Enzo Maccarinelli before him - is that many supplements on the market may be legal for the average gym rat, but are forbidden to elite athletes because they contain banned performance-enhancing substances.
But Jack3D is not just any supplement. It is arguably the most controversial supplement of recent years.
Linked with deaths on both sides of the Atlantic, the Medicines and Healthcare products Regulatory Agency ordered it to be removed from sale in the UK in August.
USPlabs has since brought out a less potent version, but this was not what Whyte found in October. He bought the original, two months after it was supposed to have been cleared from the shelves.
Reading the appeal tribunal's ruling, it is clear that the three experts accepted Whyte's account of events. They just rejected it as sufficient grounds for mitigation.
As Charles Flint QC, the panel's chairman, wrote: "a one-minute search on the internet would have revealed that the product might contain a prohibited substance".
Whyte's answer to that is "how can I look for something I didn't know about?"
He admits to hearing about Maccarinelli's ban, but not knowing what substance was involved. He knows how naive that sounds now.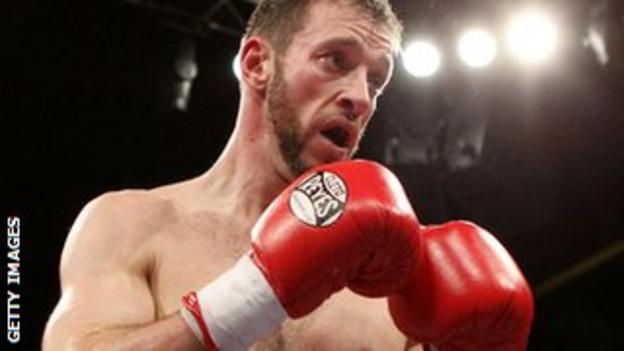 "The guy in the shop said it was fine and that he sold it to lots of athletes. It wasn't some black-market thing. It was a sport and health food shop," he explained.
Careless, daft, gullible… Whyte acknowledges he has been all these things. But have his actions been any worse than those of Barrett, Dodson and Macarinelli? Their bans were 15, five and six months respectively.
"I was totally up front with them and I didn't get any credit for it," said Whyte.
"If I were taking steroids and I lied to them I would probably have been better off because there seems to be people in boxing taking steroids, lying about it and getting less than me. I don't know why they would make an example of me."
As hard as this sounds on Whyte, UKAD probably had to make an example of somebody. The drip-drip of MHA positives demanded it - a message had to be sent.
"[The medicines watchdog] ruled that products containing MHA needed to be removed from the UK market in August," said UKAD's director of communications and education Nicola Newman.
"The fact that Whyte purchased a product containing this ingredient after that date should remind all athletes that they need to be vigilant when considering supplementing their diet."
Unsurprisingly, this is a justification for a severe sentence that Whyte's lawyer does not buy.
"This decision illustrates the enormous threshold of personal responsibility placed on athletes," said lawyer Dr Gregory Ioannidis.
"It also demonstrates the harsh and unfair operation of 'strict liability', as it places athletes with no knowledge that the supplement contained a banned substance in the same category as those who intend to cheat.
"This cannot be correct and sporting bodies must assume some responsibility regarding education and effective communication."
But there is another answer, one that Ioannidis recognises: stop taking supplements altogether.
It is a solution advocated by the British Dietetic Association (BDA), the trade association for dietitians, and the body responsible for running the Sport and Exercise Nutrition Register, a voluntary list of practitioners working in elite sport.
"The question I often ask is why take supplements in the first place?" said BDA chief executive Andy Burman.
"In most cases, even in elite sports, diet can tackle the issue rather than supplements.
"I also wonder who was guiding them through the pre-fight regime? Who was advising them on what to eat and drink in the build-up to their fights, advising them on the pitfalls?"
Whyte knows this now. He has learned the hard way. And he will have plenty of time over the next 18 months to reflect on the mistakes he made in his pre-fight regime.
But in the meantime there are bigger worries.
"I've got three kids and boxing is my only way of providing a living for them," said Whyte.
"I didn't do too well at school, to be honest, but boxing saved me and changed my life. And it was going well, because I knew it was my best chance in life.
"Now I don't know how I'm going to earn a living for me and my children."
And some say boxing is a cruel game.