David Haye aims to win world heavyweight title again on return
Last updated on .From the section Boxing154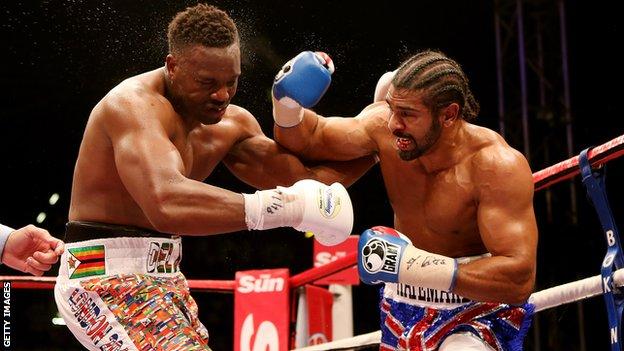 Former WBA heavyweight champion David Haye has targeted another world title as he returns to the ring on 29 June at Manchester Arena.
The 32-year-old beat Dereck Chisora in his last fight in July.
"I want that heavyweight title back," said Haye, who has not confirmed who he will face in June - but is planning two fights in 2013.
Haye has consistently expressed his desire to fight WBC heavyweight champion Vitali Klitschko.
However, the WBC champion has so far resisted Haye's advances, while the Ukrainian's brother Wladimir, the IBF, WBO and WBA champion, will face Francesco Pianeta in May.
"Instead of sitting around and waiting another year, I want to get back in there," Haye said.
"I'm happy to be back. A year is a long enough time to wait for someone to phone you.
"I was hoping Vitali would be a man of his word and fight me after I did what he and his team wanted me to do and beat Dereck Chisora.
"We have been sitting around, waiting for the phone to ring, but that hasn't happened. We have sent some e-mails but they have fallen on deaf ears."
However, the Londoner is hoping to force a fight against one of the Klitschko brothers by putting himself into a mandatory challenger position.
"David will fight an opponent who I am yet to secure, but who will be highly ranked," said Adam Booth, Haye's trainer and manager.
"He wants to fight twice this year against highly ranked contenders to put himself in an unavoidable position to be the mandatory contender to one of the brothers.
"He is not waiting anymore. He is fighting his way into position."
Haye added: "It is a nice opportunity for me to do what I do best and knock someone out for the millions of my fans around the world.
"I'm in it for the right reasons - I don't have to box. That is the difference between myself and a lot of the other heavyweights out there who have to box to pay the bills."