David Price gets Liverpool rematch with Tony Thompson on 6 July
Last updated on .From the section Boxing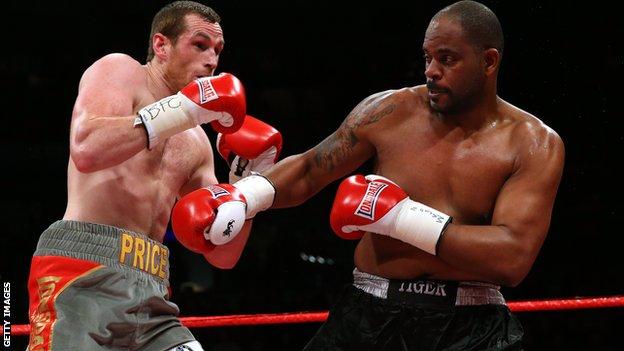 Britain's David Price will fight Tony Thompson on 6 July in a rematch following his shock defeat by the American veteran in February.
The heavyweights will meet at Liverpool's Echo Arena, the same venue where Thompson, 41, delivered his second-round knockout.
The defeat was the first of Price's career and was a blow to his hopes of fighting for a world title in 2013.
"I'm pleased it's sorted because it's the only fight I want," said Price, 29.
"He's going to be getting paid well - and rightly so, because he beat me in the first fight and he's in the driving seat.
"It's a big opportunity for me to put right what happened in my head.
"I know it's happened and it's never going to go away, but as far as I'm concerned it's the closest thing to me being able to go back in time and change what happened."
American Thompson has lost his two world title bouts with Wladimir Klitschko but was not expected to beat Price when they met in February.
The Liverpudlian revealed he turned down a big-money all-British clash with Derek Chisora in order to get this chance to avenge his solitary defeat.
"I had to take a hit in the pocket to get the rematch," Price said. "I could have fought Dereck Chisora in the summer for really good money but this is a personal thing for me which I want to get done.
"A potential fight with Dereck Chisora will be there for me after the Thompson rematch."
Price's promoter Frank Maloney has revealed Thompson has yet to sign the contract but all personal terms have been agreed.
"It wasn't a straightforward fight to make, which is why it's taken this long to get it sorted. It's been very hard," said Maloney.
"But the fight's made, he's agreed all personal terms and it's just a case of them signing the contract and sending it back. We've had an email from his team saying they've agreed to everything."
Thompson was initially reluctant to face Price again in his home town.
"They can talk all they want about a rematch, I am not coming over here again," said Thompson immediately after their first meeting.
"They vastly underpaid me for this fight and I took this fight because of the opportunity. I have created my own opportunity now so if they want to fight me again, they have to come over to my side of the pond and pay me what I am worth."