WBO lightweight champion Ricky Burns hours from title stripping
Last updated on .From the section Boxing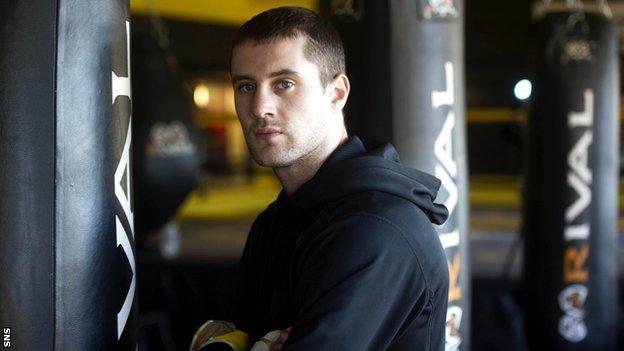 Ricky Burns was hours from being stripped of his WBO lightweight title according to his new promoter.
Eddie Hearn revealed that the WBO told him he had to arrange a title fight with Jose Gonzalez by Monday, or they would open the title to bidders.
And Hearn, who Burns joined earlier this month after leaving Frank Warren's stable, said they managed to meet the deadline at the last minute.
''We managed to set it up with two an half hours to spare," he said.
The fight with Gonzales has been scheduled for 11 May at Glasgow's Emirates Arena.
"If we hadn't, the fight would have been open to the highest bidder," added Hearn.
"That means another promoter could have won it and it could have been set up in Puerto Rico, and it may not have taken place in the WBO's timescale to allow Ricky to remain champion.
"He may have had to relinquish it."
Burns split from Warren when his lightweight unification bout with the IBF champion, Mexico's Miguel Vazquez, was postponed from Saturday 16 March until late April.
That followed a late postponement of a bout in December when Jose Ocampo pulled out within days of the fight.
The Filipino was himself a stand-in for Burns' original opponent, Liam Walsh, who was injured in a car crash ahead of his title challenge.
Burns insisted he was just looking forward to getting back in the ring.
''I'm just delighted to know who my opponent is and now I can focus on that," said Burns.
"I've been watching Gonzalez online and all I can see is pictures of him knocking people out. He's had twenty two fights and won them all, seventeen by knock outs.''
''I've put the disappointments of all those cancelled fights behind me now and I'm really looking forward to fighting in Glasgow.
"I've had a tour of the arena and it looks fantastic. It would be great to fill it with ten thousand fans.''