Frank Warren committed to boxing after losing Ricky Burns
Last updated on .From the section Boxing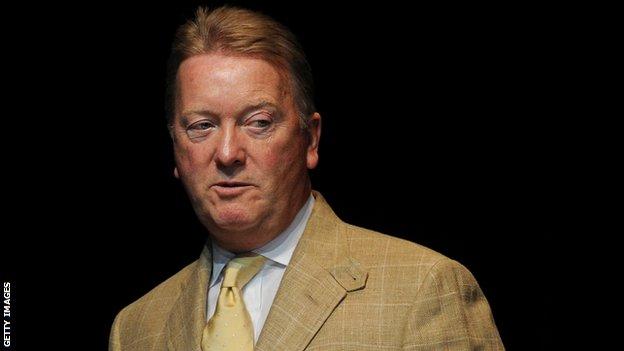 Promoter Frank Warren insists he is as committed as ever to boxing despite losing WBO lightweight champion Ricky Burns to Eddie Hearn's Matchroom.
Burns, who followed George Groves to Matchroom, now faces legal action.
Last year light-heavyweight Tony Bellew also severed ties with Warren and subsequently joined Hearn.
"It's not about controlling the sport. It's about delivering, I haven't got to prove myself to anyone out there," Warren told 5 live Boxing.
"All I've got to do is deliver my shows. They speak for themselves."
Warren, whose company Frank Warren Promotions has a television channel BoxNation, competed with Hearn's father, Barry, for Britain's top fighters in the 1980s and 1990s.
He insists he is not concerned about losing a succession of fighters to Hearn.
Warren added: "If we're talking about George Groves, which was amicable, he didn't want to fight for the European title. If you ask George Groves, he's not getting anywhere near the money I was paying him.
"As for Ricky Burns he has a contract and he's breached that which is nothing unusual in boxing.
"When I got shot [in 1989], I had fighters all walk to the other side of the street and most of them wound up with Matchroom, people like Nigel Benn, Chris Eubank, Steve Collins, Herbie Hyde, Chris Pyatt. Within two years they were all back with me."
Hearn believes that Matchroom's deal with Sky Sports is a major draw for the fighters that have left Warren.
He said: "Sometimes you see the losses that Frank Warren Promotions is incurring and maybe you'll worry about the future as a fighter financially.
"Not enough of Frank's fighters are getting the regular fights that they desire. We hold all the aces at the moment with Sky."