Edinburgh's John Thain primed for home debut as a pro

By Keir Murray
BBC Sport Scotland
Last updated on .From the section Boxing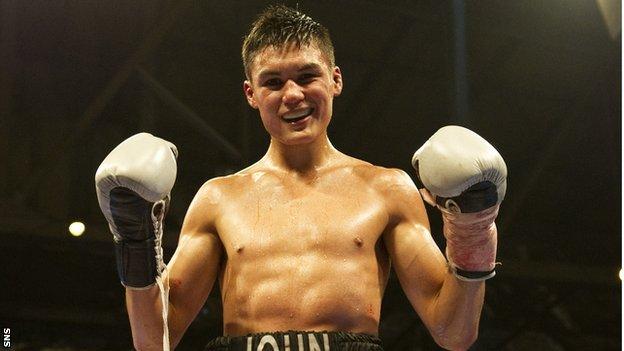 Edinburgh's John Thain is looking to extend his unbeaten record on Saturday when he boxes in front of a home crowd for the first time as a professional.
The Lochend boxer, trained by Terry McCormack, fights Bolton's Chris Jenkinson at Meadowbank having won all eight of his bouts in the paid ranks.
The stylish light-middleweight said: "I'm really excited about it. It's a good opportunity for everybody in the town to come along and see me box.
"I'm determined to put on a good show."
Thain's first bout after turning pro was a win over Kevin McCauley in Liverpool in March 2010. Since then he has secured seven more wins, all in the west of Scotland.
Now, in a night of boxing headlined by Craig McEwan and arranged by promoter Tony Lindy, Thain will finally get the chance to enjoy the backing of a large contingent of friends and family in the 1,200-strong crowd.
"I think it's a good thing for pros to box in their home town," said the 25-year-old.
"I always like boxing at this time of year, to finish the year on a high.
"I take the fights wherever they are but I am really grateful it is in Edinburgh.
"It was good for people to go through to the west to see me because it gave me the support I needed.
"This is a chance to repay them. I am determined to make it a really good night for everybody."
Thain's last outing was a tricky encounter against Barnsley's Lee Noble on the undercard of Ricky Burns's brutal stoppage of Kevin Mitchell in his September defence of the WBO world lightweight title.
Referee Phil Edwards awarded Thain the bout 60-55 but that disguises how hard he had to work to ensure his record remained blemish free.
"That was a tough fight," he told BBC Scotland.
"I tried to do the old Ken Buchanan thing and fire my left jab out.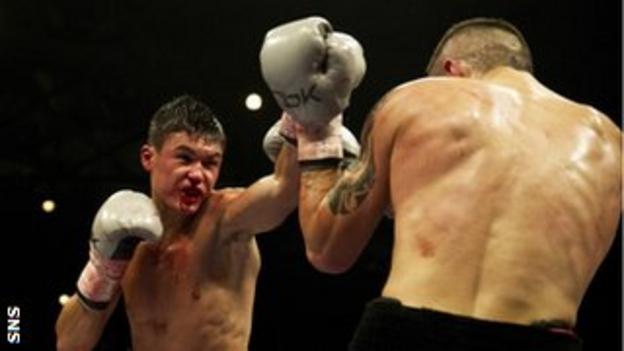 "I knew if I could keep him at distance he couldn't land those powerful punches, that if I could out-land him then I could out-score him and win the fight.
"I hurt my hand in the first round. It starting swelling up and it was really painful but I tried to hide it.
"Maybe if I hadn't trained as hard I might have lost my composure and maybe he would have got through with more of his punches."
Thain prepared for that victory at Terry McCormack's Lochend Boxing Club - and at Freddie Roach's famous Wildcard Gym in Los Angeles, his second visit there.
"It's not your usual boxing gym. In the Wildcard Gym there are all these different trainers, loads of different nationalities who have travelled from all over the world to train there.
"There is world-class sparring every day. I really enjoyed it.
"It's the best preparation for a fight. It gives you that mental strength when you come back.
"You think, 'if I can handle the Wildcard Gym, I can handle my next fight'. That's what it does for you."
Thain's ambitions lie in winning titles and to realise those he needs to beat Jenkinson, 29.
"Boxing is hard and if I get too far ahead of myself I might lose focus," warns Thain.
"It's really important that I keep winning because it means that I keep building towards that shot that I am sure will come.
"Terry says if I keep working hard I'll get the right fights at the right time."