Magee at peak for Kessler showdown
By Alex Gulrajani
BBC Sport
Last updated on .From the section Boxing
Brian Magee is a boxer who has seen it all.
The 37-year-old will step into the ring for the 48th time as a professional on Saturday night, with Mikkel Kessler his opponent in Demark.
But this time is different and will be extra special. It is his first defence of his WBA world super-middleweight title.
"Even now, when you see yourself in all the ratings ranked as WBA world champion, it's amazing," a beaming Magee told BBC Sport.
"It's been so long and such hard work you just keep moving on and keep training."
Magee has spent over half his life inside the ring. As a promising amateur, the Belfast-born boxer collected titles and honours - including a Commonwealth bronze and a trip to Atlanta for the Olympic Games in 1996.
Nothing changed in his professional career. Domestic, European and minor world titles came but defeats to Robin Reid and Carl Froch crept onto his record.
He bounced back to reclaim the British title from the then-unbeaten Scot Steve Maguire until a serious injury nearly ended his career.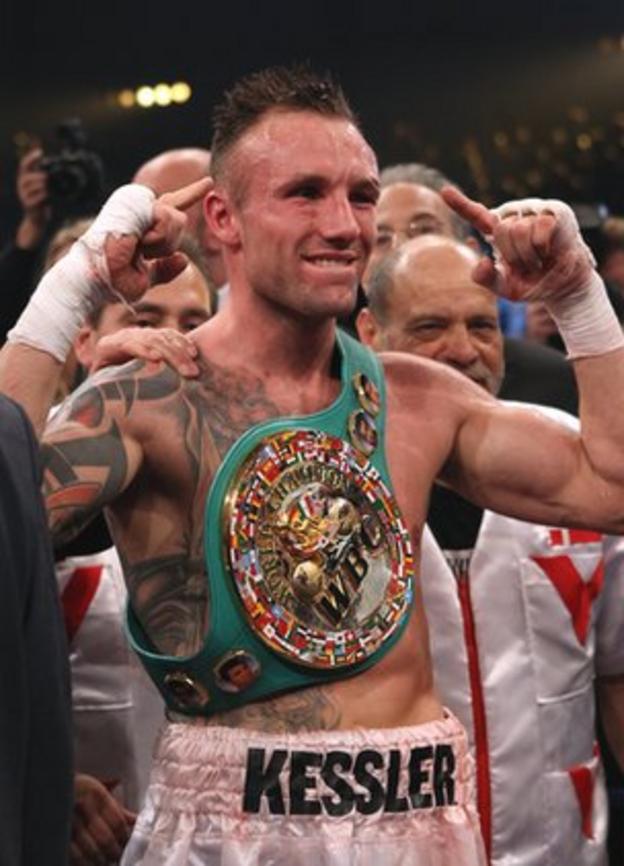 "Being out for a year and thinking I'd never box again changed things for me. I saw the bigger picture.
"Depression does creep in when those thoughts come into your head, especially when you're a sportsman and you're at the top," Magee admitted.
"Fighters grow old overnight and you know that someone else will come along and fill the gap, your fans will disappear and you're left out of the loop.
"Boxing was my life and you start to think what happens next? Luckily, I knew. And I have dreams outside the ring and a family that need me - and I need them. That's helped."
In the ring, fighting the best has kept him going. He reclaimed the European title on his return from injury and one defence later he was off to Canada to fight for Lucien Bute's IBF world title.
"It was a massive opportunity. The chance of a lifetime and one I couldn't turn down," Magee recalled.
It ended in heartache. A 10th round stoppage after a series of punishing body shots. Many expected that to be the end of the road but Magee wasn't finished just yet.
The rebuild began. An interim title in Costa Rica and a successful trip to Denmark moved him up in the WBA's rankings. His interim title was upgraded to a world title but his first defence couldn't get any tougher.
Danish fighter Kessler has only lost to the best. Joe Calzaghe and the division's number one Andre Ward. One of his victims was the previously undefeated Froch.
"If you're going to be world champion and you want to win the big prizes, this is what you have to do and fight the best in the world," Magee told BBC Sport.
"I could have picked easier fights for the first defence but what would I be getting out of it? I'm at the stage of my career where I want to reach the highest pinnacle that I can. I don't want to think when I retire that I should have done this and should have done that.
"In my division there's so many good fighters in it, but I'm one of them. I'm up there in the elite."
It's taken time but Magee may have just made it. When it comes to fighting the best, he's always been on the outside looking in.
Froch, Ward, Bute and Kessler enjoy the limelight in the super-middleweight division.
Despite the world champion status, Magee remains the outsider for the duel with Kessler.
"I can't remember the last time I wasn't the underdog going into a fight," Magee admitted.
"Every time I fight it's like, 'Ah this is it, this is the end' but I always come back. I'm like a boxing vampire. I've been in this game for a quarter of a century and I'm probably fitter than I've ever been in my life.
"I'm boxing better than ever. Age hasn't done me any harm. If you'd seen me throughout the training camp you'd think I was 27.
"Without a doubt, I'm definitely a better fighter than I was 10 years ago. Time's been good to me. I'm still strong, I'm still fit and I'm learning all the time. I've still got that passion.
"I think when that starts to fade it's time to hang up the gloves. I'm not there to get punished. I've had a good career and I'm a good boxer inside and outside the ring.
"I know it's the hardest game in the world and time is not on your side. But for now, I'm feeling good."
Favourite or not, champion or not, one thing is guaranteed. Unlike others, Magee will know when the time is up. And when it is, he'll have a life outside the ring waiting for him.