John Joe Nevin: Amir Khan's new stable signs silver medallist
Last updated on .From the section Boxing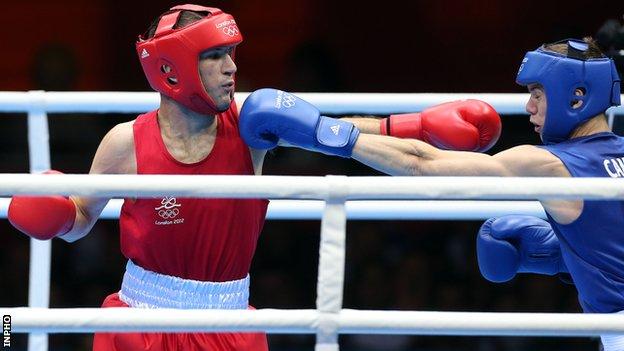 London 2012 silver medallist John Joe Nevin has joined Amir Khan's new Super Fight Promotions stable.
Irishman Nevin, 23, is the second fighter to turn professional with Khan's team alongside the former world champion's younger brother, Haroon.
Khan said Nevin's performances at the summer Games had caught his eye.
He added: "He's exactly the type of young, exciting and gifted talent we want under our banner."
Bantamweight Nevin missed out on gold in the Olympic final to Luke Campbell in a closely fought 14-11 bout.
In addition to an Olympic silver medal, Nevin has claimed five national senior titles and two bronze World Amateur Championships in his amateur career.
Nevin is set to make his professional debut on 19 January 2013 at the Manchester Arena.
Khan, who won silver at the 2004 Games, said: "When I saw John Joe Nevin at the Olympics he really impressed me and I knew right away he was a real talent. He's slick, moves well and has a lot of attributes that I know will take him very far as a professional.
"I'm extremely pleased that we have managed to bring him to Super Fight Promotions. We have high hopes for him."
Nevin said: "I would like to win a world title and this is the route that I need to take. I am excited for the future. I decided to go with Amir as he is a professional boxer and understands the professional game.
"He himself was an Olympic medallist so he has gone through the transition from amateur to professional. I'm looking forward to my first professional fight."