Pacquiao aiming to knock Marquez out in fourth meeting
Last updated on .From the section Boxing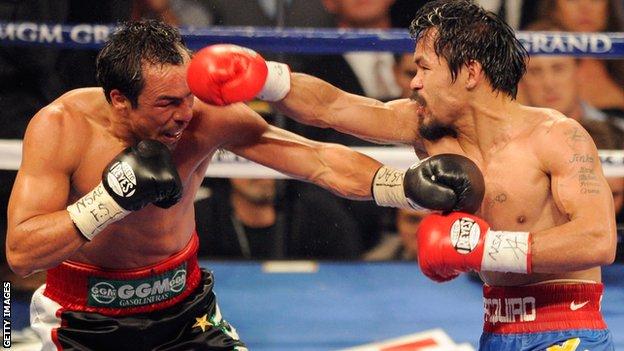 Manny Pacquiao has vowed to knock Juan Manuel Marquez out when the long-time rivals meet for a fourth time in Las Vegas on 8 December.
The two fighters last met in November when Pacquiao, 33, was awarded a controversial majority decision.
In their previous meetings, the pair fought to a draw in 2004 and Pacquiao edged a split decision in 2008.
"I want to make this fight short, I want to knock him out," said former seven-weight world champion Pacquiao.
"There's so many people still asking if I won the fights. I think to myself: 'Something is wrong. I have to do it again'.
"This time, I will train hard to put this fight up in the history of boxing. I want to erase the doubt of the last three fights."
Pacquiao lost his last fight against American Timothy Bradley in June, a bout most observers thought he should have won.
The 39-year-old Marquez, who has 54 wins from 61 fights and is a former three-weight world champion, maintained he won their first three meetings.
"Everybody knows I won the fights, and I don't know what happened with the judges," Marquez said.
"I have to take it out of the judges' hands this time."
Pacquiao will not train in Baguio, the high-altitude northern Philippines city where he has traditionally started his training camp before heading to Freddie Roach's gym for the final few weeks.
Instead, Pacquiao and Roach will be in Hollywood for their entire training camp.