Ricky Hatton's road to redemption

Last updated on .From the section Boxing34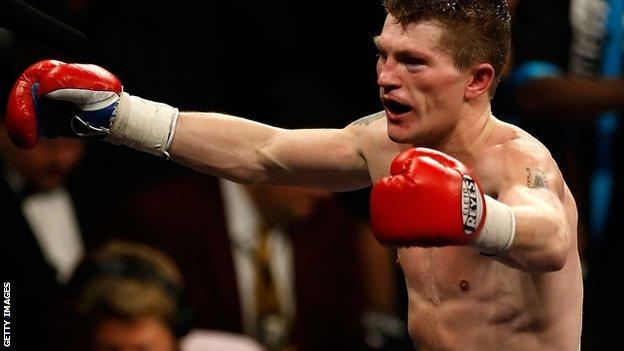 Those calling Ricky Hatton "an idiot" for choosing to return to the ring - and there are plenty of them - should have been in Manchester on Friday to witness a comeback speech of such emotional force, even Hatton admitted his bottom lip was quivering.
"I've just had a little baby girl," Hatton, his eyes still moist and his passion barely subsided, told BBC Sport after his turn on the dais. "And I look at her every morning and think: 'I want you to be so proud of me'. This is the way to make it happen."
The story conjures memories of Frank Spencer standing over a cot and tenderly chirping away to the daughter he venerates. And the comparison is an apt one: for Hatton had become as hapless in his own way as the star of Some Mothers Do 'Ave 'Em. "My life had turned to mush," said Hatton. "I didn't like what I was."
What Hatton had become was a man in danger of being remembered more for his formidable powers of relaxation than his formidable powers in the ring. And when he wasn't nursing a Guinness or snorting cocaine, he inhabited an even darker place.
"I suffered massively from depression and I've been suicidal," said Hatton, a former two-weight world champion who turns 34 next month. "I had arguably the biggest fan-base of any British boxer, so talk about a fall from grace.
"I want to go back to where I was and if I can do that after all my problems, what a story that would be. I want my kids to turn round in a few years and say: 'You know what? My dad had his problems but, boy, he bounced back with a vengeance'."
More charitable than those calling Hatton "an idiot" are those who are genuinely worried about the damage that might be done. While the concern is to be applauded, if you follow professional boxing you enter into a pact: this is a dangerous sport and every fight you watch has the potential for tragedy. So once you have entered into that pact it is a little woolly to claim to be overly concerned about a fighter's wellbeing.
As long as boxing is legal then boxers have the right to earn a living and it is easy to understand where Hatton is coming from when he says ours is not to reason why. "It's lovely to hear but it's dead easy to say 'don't do it'," he said. "They can't climb in my head and know how I feel. Although I don't expect people to understand."
Hatton and those closest to him are caught in a conundrum: with and without boxing he is at risk of harm, both physical and mental. But Hatton is a better person with boxing than without. Without boxing he is lost, with boxing he has purpose.
Those with a keen sense of boxing history will tell you that Hatton's return is nowhere near the top of the list of the sport's most preposterous comebacks. True, the last time anyone saw Hatton in a ring he was flat on his back, eyes blinking like busted light bulbs, having been knocked out by the great Manny Pacquiao in 2009.
There was also the defeat at the hands of Floyd Mayweather in 2007, both of which fights suggested Hatton did not have what it took to mix it at the very highest level. But Hatton and his trainer, Manchester fixture Bob Shannon, will hopefully be sensible with their matchmaking and look to chart a path of far less resistance.
"It's a big job for me," said Shannon, formerly trainer of Ricky's younger brother Matthew, a former world-title contender. "I've got to have broad shoulders for this job, it's a lot of pressure. We've got a 10-week training camp but if for any reason he struggles I'll be the first to tell him and he won't fight if there's any doubt in my mind.
"But he's been in the gym for a week and I can honestly say it's like he's never been away. He's so determined, you can see it in his eyes when he's in front of me. I'm 100% behind him and I guarantee he will be world champion again."
Paulie Malignaggi, who Hatton beat handily in 2008, is a world champion again at welterweight and has the added bonus of being a featherweight puncher. The American is keen on a rematch and is probably hearing 'kerchings' in his sleep.
Hatton's fellow Briton Amir Khan, also on the road to redemption after his defeat at the hands of Danny Garcia, has clambered aboard the Hatton bandwagon and that could be a stadium affair. Given Khan's leaky defences, it's a fight Hatton might win.
But best not to get ahead of ourselves. For all the talk of new beginnings, of feeling better than ever, of being in the zone again, Barry McGuigan knows what he's talking about when he says boxers are very good at fooling themselves. Over and over again.
Until we find out if he has been fooling himself or not, let's not be mean to Hatton. Disapprove of his comeback, by all means, but try to remember where he has been, how lost he was and that this is his chance to find meaning in his life again.
"There are certain things I need to know and ghosts I need to put to rest," said Hatton. "And that's what I'm going to do on 24 November. This comeback is more than a boxing story. It's about making everyone proud of me again."