Ricky Hatton can win a world title again - Barry McGuigan

Last updated on .From the section Boxing42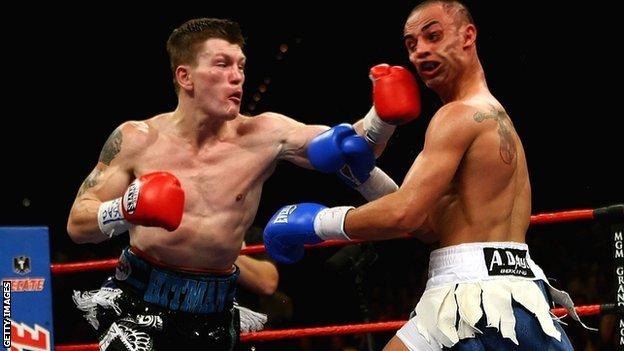 Former world champion Barry McGuigan says Ricky Hatton can win a world title again if, as expected, he comes out of retirement.
Two-weight world champion Hatton, 33, is expected to announce his return to the ring on Friday.
"It [Hatton's proposed comeback] is not ridiculous," McGuigan told BBC Sport.
"There's every chance we'll see 90% of the Ricky Hatton we saw a few years back and that will be good enough to beat someone like Paulie Malignaggi."
Manchester fighter Hatton has not fought since suffering a second-round knockout by Manny Pacquiao in May 2009.
But he stopped Malignaggi in 11 rounds in his penultimate fight in 2008, since when the American has become the WBA welterweight champion.
Hatton formally retired last year and now runs his own promotions company.
But he has called a news conference for Friday at 11:30 BST, when he says he will make a "major announcement".
It is expected Hatton will face a lesser-known opponent in November before pursuing Malignaggi, who has expressed interest in a rematch.
Former world champion Amir Khan, who beat Malignaggi in 2010, is also said to be interested in fighting his fellow Brit.
"Because Ricky has had his problems with drugs and gained an awful lot of weight people are concerned. But he's not a fool, he'll do things properly," said former featherweight world champion McGuigan.
"He will take his weight down slowly, have lots of time to get ready, probably have an exhibition in the gym, box with smaller gloves on to feel what it's like to be hit again.
"He won't come back in a half-hearted fashion, he will give it everything. If that's not good enough, so be it.
"I don't think any ex-boxers have the right to judge another fighter, it's Ricky's decision and a very personal decision.
"If he decides to come back, I'm 100% behind the guy. I'd rather he did it now than waited five years and then decided to come back."
However, McGuigan, who took 22 months off after losing his world title to American Steve Cruz in 1986, conceded it could be a long road back for Hatton.
"We'll never really know how sharp Ricky is until we see him in that ring again," said McGuigan, who won three fights after returning to the ring before losing his final bout to Britain's Jim McDonnell in 1989.
"I never said it out loud but it was when the lights went off at night that I asked myself the question: 'Is it still there or not?'
"Will Ricky have the same body punching ability, the same relentless aggression? Or will he be a different fighter?
"Ricky is a lovely, lovely man and he's been great for British boxing so it would be devastating for him and British boxing if he came back and was a pale comparison of his former years.
"But I don't think that's going to happen. I don't think he'd come back if he didn't think he could be almost as good as he used to be."
Hatton was a light-welter and welterweight world champion. His most notable win came when he claimed the IBF light-welterweight title from Kostya Tszyu in 2005.
He lost to Floyd Mayweather in 2007 before suffering a comprehensive defeat at the hands of Pacquiao three years ago.
In 2010, Hatton was stripped of his licence to box by the British Boxing Board of Control after allegations of cocaine use.