Lamont Peterson cleared of doping by International Boxing Federation
Last updated on .From the section Boxing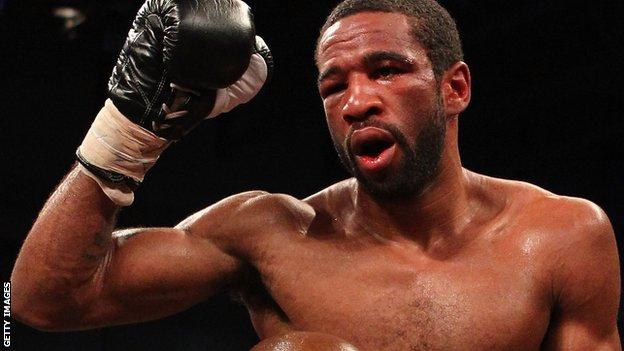 The International Boxing Federation (IBF) has cleared Lamont Peterson of using drugs to enhance his performance.
The governing body will therefore allow the light-welterweight to keep the title he took from Amir Khan last year.
American Peterson controversially won the WBA and IBF belts on 10 December.
A 19 May rematch was called off after Peterson tested positive for synthetic testosterone, but the IBF has now ruled that this was "not for the purpose of performance enhancement".
A statement from the organisation read: "After concluding the review of all the documentation provided by Peterson's camp and the Nevada State Athletic Commission, the physician determined that the testosterone levels noted in the Voluntary Anti-Doping Association (Vada) report are consistent with the therapeutic use of the hormone and not for the purpose of performance enhancement.
"Therefore, these levels would not have enhanced Lamont Peterson's training for, or performance during, the bout on 10 December 2011. Nor for his training for the bout that was schedule for 19 May 2012, as a specimen collected by Vada on 13 April 2012 tested negative on 2 May 2012."
The IBF has informed Peterson he must make a mandatory defence of the title against fellow American Zab Judah, who won the elimination bout for the number one position in the IBF light-welterweight ratings in March.
The fight is "expected to take place as soon as possible on a date that all parties involved agree upon", the IBF added in the statement.
Khan was reinstated as light-welterweight champion in July by another body, the WBA, after it cited "multiple irregularities" with the original decision to award the fight to the American.
But the Bolton fighter subsequently lost the belt to Danny Garcia when he was knocked out in their unification bout on 14 July.