David Haye wants Vitali Klitschko fight after Dereck Chisora win
Last updated on .From the section Boxing88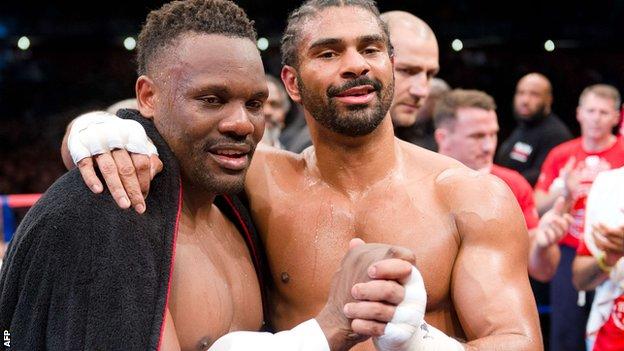 David Haye challenged WBC heavyweight champion Vitali Klitschko after a stunning fifth-round knockout of Dereck Chisora at Upton Park.
The 31-year-old is desperate to fight the Ukrainian, but believes his demolition of Chisora may give Klitschko second thoughts.
"It was a scary message," he said. "I'd be surprised if he wants to fight now."
But Klitschko's manager Bernd Boente later said a fight between the pair was unlikely, citing other commitments.
Nonetheless Haye says he will continue to pursue a fight against the 40-year-old.
"He (Vitali) will no doubt fight some chump and then retire to be a politician. If he wants to fight me then I'm ready," added Haye.
But Boente mocked the suggestion Vitali, who faces Manuel Charr in Moscow on 8 September, is running scared saying Haye was the one continuing to turn down a showdown between the pair.
And while Boente insisted Klitschko's priorities lie elsewhere, he refused to close the door on a showdown with Haye completely.
"After fighting Manuel Charr, Vitali goes on the campaign trail for parliamentary election in the Ukraine. He's the leader for the opposition, UDAR," said Boente.
"Should he be elected on 28 October then he will probably stop boxing. For him politics is the future - he wants to fight for democracy.
"But even if he's elected, maybe he will want to have a farewell fight. At the moment David Haye means nothing to us and Vitali is definitely not afraid of fighting him."
Haye controlled the fight against Chisora, as he dominated the ring with some fast footwork and caught his opponent with some stinging shots.
He floored his rival with a brutal left-hook, right-hand combination in the fifth and, as Chisora stumbled to his feet, he unloaded three more right hooks and two lefts to finish the fight in style.
The manner of the knockout was explosive and delighted Haye - who was quick to pay tribute to Chisora.
"Chisora has one of the best chins I've hit," Haye said. "I was hitting him with shots that would normally put people away - but he kept coming.
"I didn't give him much respect before the fight but that is the way boxing is.
"He gave me a lot harder night than I anticipated. I thought the fight would be over in a couple of rounds.
"I had to dig deep in there and I had to do what good fighters do to win."
The build-up to the fight was controversial following the pair's much-publicised brawl after a news conference in Munich in February 2012.
The British Boxing Board of Control refused to sanction the contest, meaning the Luxembourg Boxing Federation staged it instead.
And Haye believes the bout should be remembered for the right reasons, with both fighters staying out of trouble and embracing at the end.
"This was one of the best British boxing matches in recent years," Haye added.
"There was a lot of beef beforehand, we put our lives on the line in there but credit to Dereck Chisora. I believe he will go on to great things."
Chisora agreed it was a good contest - and vowed to bounce back from the disappointment of defeat.
He said: "That was a great fight. I got caught, I don't know what with, but it was a great shot. This is boxing - there has to be one winner. I will come back."