Stuart Hall confident of overcoming Lee Haskins threat
Last updated on .From the section Boxing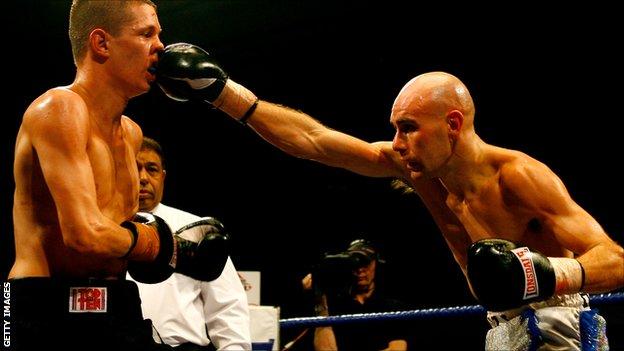 Darlington bantamweight Stuart Hall has said he has the power and strength to trouble Lee Haskins when they meet in Saturday's European title fight.
Hall tackles the Bristol fighter for his first outing since losing his previous shot at the belt to Jamie McDonnell last September.
"He's an awkward fighter, but when I've watched him I don't think he likes getting punched," Hall said.
"Someone as big and strong as me, I think I'll take him into deep waters."
Haskins, a former flyweight and super-flyweight, is likely to concede weight to Hall who fights in the upper reaches of the division.
However that has not stopped the Somerset fighter from claiming he will knock out the north east boxer at the Hand Arena.
"He's said he's going to knock me out and I don't know what he's been on but that's a stupid statement," Hall said.
"If anyone's going to get knocked out, it's him. He's coming up from flyweight, I'm a bantamweight and I could mix with the biggest bantamweights in the world.
"He's going to get a shock. He might have a plan but as soon as I punch him that plan's going to go to pot."
Stuart Hall was speaking to John Hannen