Friends Ricky Burns and Kevin Mitchell prepare for WBO bout
By Dougie Vipond
BBC Sport Scotland
Last updated on .From the section Boxing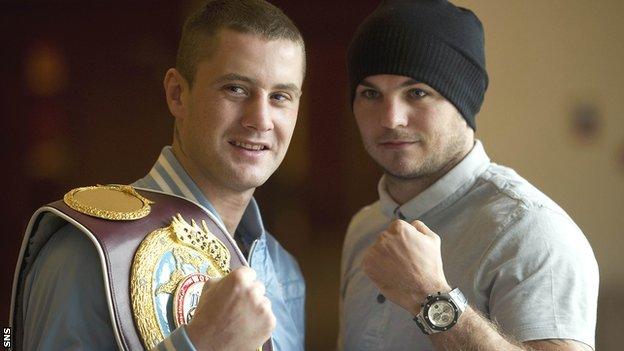 Ricky Burns and Kevin Mitchell will put their personal friendship to the side when Burns defends his WBO world title in Glasgow on 22 September.
Essex lightweight Mitchell and Burns once sparred together and keep in touch using online gaming and Twitter.
"We've known each other growing up in the fight game. Once we step in the ring it's time to get the business head on," said Scotland's Burns.
Mitchell added: "We get on well but our jobs are on the line."
The 27-year-old Englishman went off the rails for a spell after losing for the first time in his professional career, to Michael Katsidis in a world title bid at Upton Park two years ago.
But 14 months later, in July last year, he put the first blemish on John Murray's record and is in no mood to waste this latest opportunity to become a world champion.
"I took the fight, got beat and I basically went on the drink for eight months and blew all my money," admitted Mitchell.
"This is my last title chance. I'm going to beat myself into shape to prepare for it properly.
"Me and Ricky are on Twitter and on the Xbox with each other, going to war on there as well.
"It will be a good night. I'll be bringing about 3,000 fans."
The Dagenham fighter praised Burns' fitness and courage and says there is no chance that he will under-estimate the modest Coatbridge champion.
"He's strong, sharp and he hits hard enough to hurt you," continued Mitchell.
"He's got a good chin. He goes down, he gets back up. He is strong in all areas, he's got a great defence.
"Where people go wrong with him is that they don't realise how good he really is. They come unstuck in the middle rounds."
It is unlikely that Frank Warren will have to work too hard to promote this highly anticipated meeting of two well-matched fighters, which will be staged at the SECC.
His enthusiasm for the bout is evident.
He told BBC Scotland: "I think it's going to be fight of the year - quality boxers and England versus Scotland.
"Kevin's got a big heart and he's going to need it coming up here.
"He's coming into the lion's den to try to wrest the title away from someone I believe should be a Scottish hero.
"Ricky has done phenomenally well in his career and, for me, he is probably the best fighter in the UK."
Burns, 29, has married his long-time girlfriend Amanda since his last title defence, against Paulus Moses in March.
But he says neither that, nor being world champion, has changed his life. He still works part-time in a local sports shop.
"I don't see myself as a world champion until I step inside those ropes," he said.
"Kevin has had his problems outside the ring. He's got back on the straight and narrow and he's looking forward to fighting me now but there is no way that belt is leaving Scotland."
Burns showed some nimble footwork to sidestep a question about fellow Scottish lightweight Scott Harrison and whether he might be a possible future opponent now that he has ended his six-and-a-half year absence from the ring.
"Scott did well in his comeback fight," said Burns.
"When I was an up-and-coming when Scott was world champion I used to get on all the undercards.
"He was great for Scottish boxing and I am glad he is back in the ring now.
"I wish him all the best."