David Haye and Dereck Chisora pledge to behave
Last updated on .From the section Boxing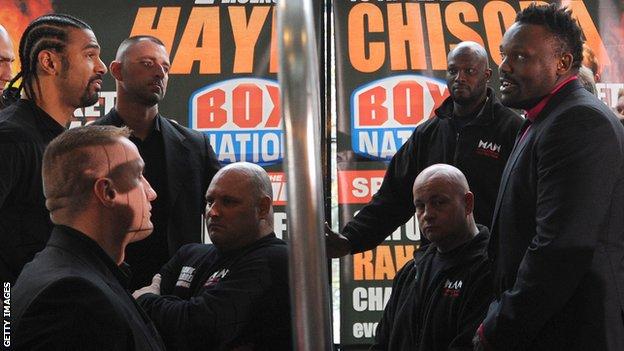 British heavyweights David Haye and Dereck Chisora have vowed to behave outside the ring before and after their controversial fight on 14 July.
Neither boxer currently holds a British boxing licence because of the brawl.
"Right now I am behaving myself, after the fight I will try to behave myself but in the ring I'm not going to behave myself," insisted Chisora.
"All I will say is it is going to be a great fight and I would love my opponent to come out of the ring healthy and the same for me."
Haye says he has never done anything wrong away from the ring and has called for a clean fight in the Upton Park contest sanctioned by the Luxembourg Boxing Federation.
"In the ring I have never really done too much to break the law, even outside of it, whereas I've seen him bite people," said Haye.
"So I don't think people should put the spotlight on me because I'm a consummate professional inside and outside of the ring, this guy has a history of being the polar opposite of that.
"Outside the ring you have seen what happened, he has had a whole load of madness going on, but inside the ring we have rules and they have to be abided by and I'm not training to break any rules - I'm looking forward to going out there and doing a job."
The British Boxing Board of Control has threatened to revoke the licence of anyone involved in the controversial fight.