Manny Pacquiao beaten by Timothy Bradley in split decision
Last updated on .From the section Boxing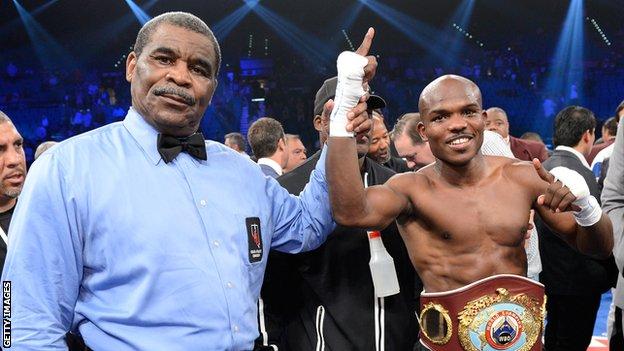 Manny Pacquiao lost his WBO welterweight title to Timothy Bradley after a highly controversial split points decision in Las Vegas.
Despite landing 94 more punches, the Philippines fighter was beaten for the first time in seven years after two judges scored the bout 115-113 in the undefeated American's favour.
The other judge at the MGM Grand had Pacquiao ahead by the same margin.
The decision was roundly booed and a rematch looks likely later this year.
"I thought I won," said Bradley, who had displayed his confidence by having oversized tickets printed for a rematch on 10 November.
"I didn't think he was as good as everyone says he was. I didn't feel his power."
Pacquiao's entrance to the fight was delayed but when he did arrive he started sluggishly in the opening round only to land three meaty blows in the closing moments.
By the fifth round Bradley was in visible discomfort with an injured foot and Pacquiao seemed to have done enough to retain his title.
A pattern had started to emerge, with Bradley attempting to come out hard at the start of each round but Pacquiao finishing strongly and connecting with some considerable blows.
Bradley enjoyed his best moments of the fight in the last three rounds yet the crowd reacted angrily and began to jeer when the judges returned their verdicts.
"Can you believe that? Unbelievable," promoter Bob Arum said. "I went over to Bradley before the decision and he said, 'I tried hard but I couldn't beat the guy.'"
Pacquiao said he was shocked by the verdict: "I did my best [but] I guess my best wasn't good enough.
"He never hurt me with his punches, most of them landed on my arms," Pacquiao said.
Arum, who has contracts with both fighters, said: "I'm going to make a lot of money on the rematch, but this [decision] was outrageous."
Britain's Amir Khan was at ringside and likened the outcome to his own experience late last year when he lost his WBA and IBF light-welterweight titles to Lamont Peterson in a contentious points decision in Washington.
"I was commentating on the fight and I was shocked more than anything," he told BBC Radio 5 live. "Manny won the fight clearly - I gave him it by at least eight points.
"The same thing happened to me when I fought Peterson. I met Manny backstage and he said: 'I'm not hurt, I'm fine. He didn't do anything in the fight for the judges to have him winning.'
"Manny has had a tough career and he's not been boxing as well as he should be in his last few fights, but everyone in that arena thought he won that fight.
"I only gave Bradley a couple of rounds and they were very close. I had Manny winning at least 8-4," he continued.
"I was sat with all the press people and when they put the mic to Bradley everyone started booing and throwing drinks.
"Manny was still smiling as always. He had no marks at all apart from maybe a gash on his eye, but that was a headbutt."
Khan, who fights American Danny Garcia in Los Angeles for the WBC light-welterweight title on 14 July, has again targeted a bout with Bradley.
"We've offered the fight to Bradley twice before and he's turned us down twice," Khan said.
"He did mention this week he wants to fight Amir Khan, I'm ready to get this fight on. This is only going to make me train harder because once you let things go to the judges you can lose fights.
"This is the third time I'm offering the fight to him so let's see what happens."