Haye-Chisora: Luxembourg Boxing Federation sanctions fight
Last updated on .From the section Boxing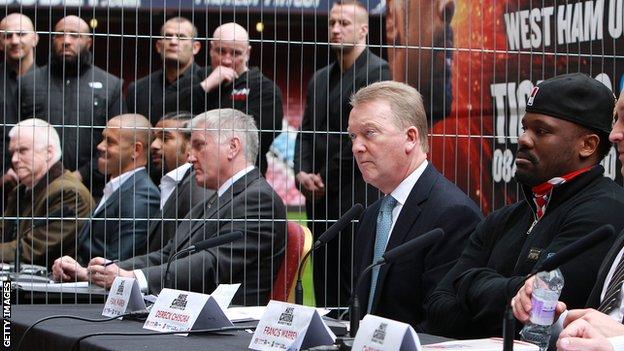 The fight between David Haye and Dereck Chisora has been sanctioned by the Luxembourg Boxing Federation, despite threat of expulsion from the European Boxing Union.
The federation voted in favour of licensing by eight votes to four.
Frank Warren, who manages Chisora, claimed "the promotion will definitely go ahead" in a statement.
Pressure has mounted on the LBF following the EBU's threat.
The British Boxing Board of Control also threatened those involved with expulsion, but have since softened their stance, saying people would be allowed to explain their case.
The fight, scheduled to take place at Upton Park on 14 July, will be for the WBO and WBA intercontinental titles.
In a statement, Warren said: "[The] LBF is backing the show along with the World Boxing Organisation (WBO) and the World Boxing Association (WBA), whose international and intercontinental titles will be contested."
Promoter Bruce Baker told BBC Sport there were other European federations willing to sanction the fight if the Luxembourg Boxing Federation pulled out.