Chisora and Haye should be punished - Wladimir Klitschko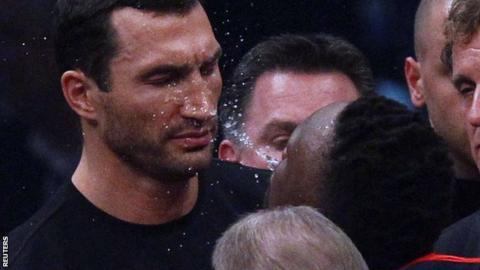 Wladimir Klitschko believes the scuffle between Dereck Chisora and David Haye has damaged the reputation of boxing - and is adamant they should be punished.
The British pair clashed at Saturday night's post-fight news conference in Munich after Chisora was beaten by Wladimir's brother Vitali.
"This behaviour kills the hard work of the people that have been polishing the image of the sport," said Klitschko.
"There has to be consequences otherwise boxing is going downhill fast."
Wladimir Klitschko, the IBF, WBO and WBA champion, has history with both men, having beaten Haye last summer and twice pulled out of bouts with Chisora through injury.
"This type of behaviour kills the hard work of former champs," he added. "And it teaches disrespect for the sport and fellow human beings."
"There has to be consequences for these kinds of actions, which must never be tolerated by the boxing organisations, the media, fellow boxers and boxing fans.
Klitschko, the younger brother of Vitali, had water spat at him by Chisora in the ring just before Saturday night's fight.
"It is the sport of boxing and we do not need theatre like that," he said.
"The spitting of water in the ring is not right. We have to respect each other. That is definitely something that these guys are not giving.
"It is all about the ring and the fighting in the ring - not outside.
"I am really surprised. This behaviour is really not acceptable. Outside the ring it has to be punished."