Audley Harrison to face Ali Adams in April comeback fight
Last updated on .From the section Boxing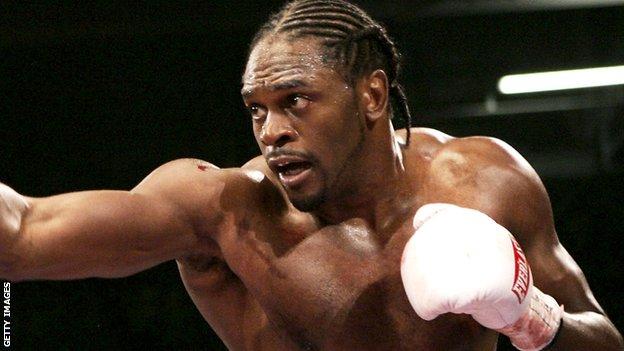 British boxer Audley Harrison is set to make a comeback on 14 April when he will fight Ali Adams at the Brentwood Centre in Essex.
Harrison said: "I've never been more disappointed in myself than I felt that night [against Haye].
"Anyone can lose but I didn't lose with dignity so I was never going to retire on that performance."
He added: "I've been sitting on the shelf for 15 months, so I'm grateful for this opportunity. With my right arm now healed, I'll have too much for Ali Adams. I intend to show I still have a future in the game."
It is a fight for the International Masters heavyweight title, which Baghdad-born Adams won by beating Vjekoslav Bajic at the York Hall in Bethnal Green in December.
Adams, 30, said: "Audley is a joke. His fight with Haye was an embarrassment and he still wants to make a comeback.
"I will give him such a beating that Audley will see he does not belong in a boxing ring again."
Harrison competed in the 2011 Strictly Come Dancing programme on the BBC.