London 2012: Olympics women's boxing skirts still undecided
Last updated on .From the section Boxing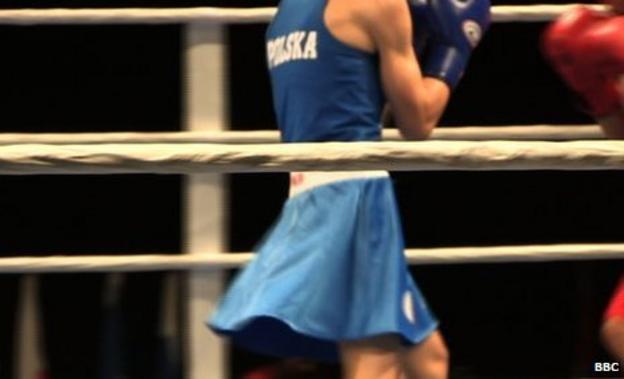 Amateur boxing chiefs are unlikely to make an announcement soon on whether female boxers will be made to wear skirts at the London Olympics.
The Amateur International Boxing Association (Aiba) met last week to make recommendations on the issue.
But Aiba say they "will not reveal the content of internal discussions".
The world governing body's president will now review the recommendations, with a final decision still expected to be weeks away.
An Aiba spokesman said: "Aiba staff will now summarise all recommendations that were made. Those will then run by Aiba president and Aiba executive director before they are sent to the Aiba executive committee bureau."
Women's boxing will make its Olympic debut in London and the issue of making women wear skirts has already become a controversial one.
Aiba has previously asked women boxers to trial the skirts to help spectators distinguish them from men, but at the European Championships in October the only nations to do so were Poland and Romania.
Speaking at the European Championships, Ireland's three-time world champion Katie Taylor told BBC Sport: "I won't be wearing a mini-skirt. I don't even wear mini-skirts on a night out, so I definitely won't be wearing one in the ring."
But there has been support from some boxers, such as MC Mary Kom of India: "The tennis players wear skirts and the badminton players are wearing skirts so why don't the boxers wear skirts?"
An online petition against forcing women boxers to wear skirts currently has more than 54,000 signatures.
Aiba say they are aware of the campaign and insists they are considering everyone's opinion, including the wider public, and seeking a consensus.
Marianne Marston, who has backed the campaign, said: "I feel I have more important issues to deal with in women's boxing - the acceptance of women's boxing, acceptance of women in boxing gyms - than whether they should wear skirts or not.
"I think they (Aiba) are saying that women's sport won't get accepted or viewed unless women are feminine, and boxing is not necessarily a sport that attracts particularly a feminine attitude from the women that compete in it, and I think there should be a choice."
Meanwhile, boxer and kit designer Laura Saperstein Radio 4's Woman's Hour: "I prefer to wear a skirt because they are more comfortable. In my view there is a very good reason why men wear the kind of shorts that they do."