Amir Khan's trainer Freddie Roach 'knows mystery man'
By Richard Conway
BBC Sport
Last updated on .From the section Boxing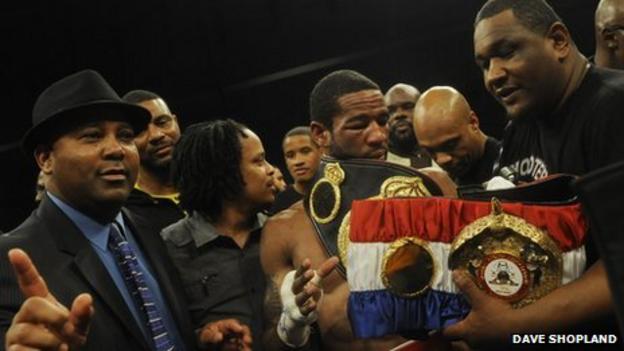 Amir Khan's trainer Freddie Roach says he personally knows the mystery man seen at ringside during the Lamont Peterson fight and once ejected him from a training camp for United States Olympic boxers.
Roach, speaking from the Wild Card gym in Los Angeles where Khan regularly trains, told BBC Sport he also believes that the man, identified by the fight's promoter as Mustafa Ameen, is not an International Boxing Federation (IBF) official as has been claimed.
"He comes to my gym. He came to the [US] Olympic training centre and I actually had him removed one time," he said.
"I told the coaches, 'There's no need for him to be here.'
"He goes to gyms and talks to other people's fighters.
"But he does know the boundaries because he doesn't go after my fighters - but he does talk to other people's fighters and he's been told not to a couple of times, even here in my gym."
Richard Schaefer, chief executive of the Golden Boy company which promoted the Khan-Peterson fight, has claimed Ameen is an IBF official who was given accreditation for the fight but was not directly involved in it.
It is a view that Roach was quick to question.
"[Ameen] has no credentials; he's not a member of any boxing organisation," he said.
"There's no reason for him to be at ringside.
"Why he was ringside and why he was in the ring afterwards celebrating and so forth I have no idea."
Roach, a US boxing hall of fame member, also believes that because rules on possible interference have been breached the fight should be declared a no contest and a rematch held.
"You've got a guy sitting beside [Michael Welsh, World Boxing Association supervisor] that's talking about who's winning rounds and so forth - we can only speculate on what they were talking about but most likely they are talking about the fight.
"And people get influenced by other people easily. And that's why the rules are that no-one but officials are at ring-side.
"It should be no-contest or a mandated re-match."
Khan lost his WBA and IBF titles to Peterson in December but has continued to question a number of aspects of the fight on Twitter and in television interviews.
The WBA, which sanctioned the fight along with the IBF, has told BBC Sport it would like to see a rematch because of questions over the integrity of the bout.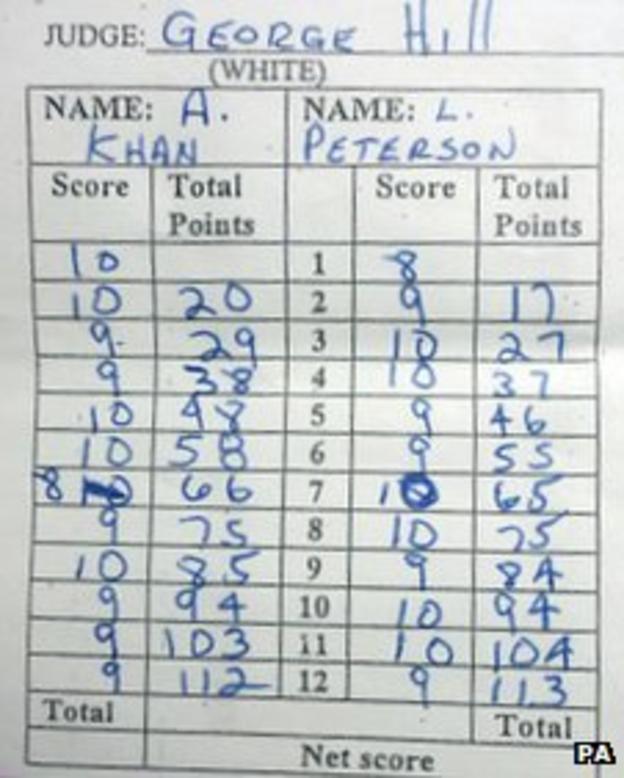 Michael Welsh, the New Jersey-based WBA supervisor whom Ameen is seen talking to throughout the contest, refused to speak when contacted by BBC Sport, directing all questions over the affair to WBA president Gilberto Mendoza.
Mendoza said he shared the view of Khan and his camp that there was "controversy" over the officiating of the fight - a problem he blamed on the actions of the Washington DC Boxing and Wrestling Commission in ignoring Welsh's concerns.
The WBA has now asked for a rematch and is urging the IBF to agree.
And Roach, who also trains eight-division world champion Manny Pacquiao, was emphatic when asked if Khan could win any future rematch with Peterson.
"100% yes," he said.
Olympic silver medallist Khan lost his light-welterweight titles on a split decision, having been deducted a point in two rounds by the referee for pushing his opponent.
Judges George Hill and Valerie Dorsett scored the fight 113-112 to Peterson, while Nelson Vasquez gave the verdict to Khan 115-110.
An appeal brought by Khan's camp over the fight will be heard on 18 January.