Carl Froch eyes Nottingham comeback fight after defeat by Andre Ward
Last updated on .From the section Boxing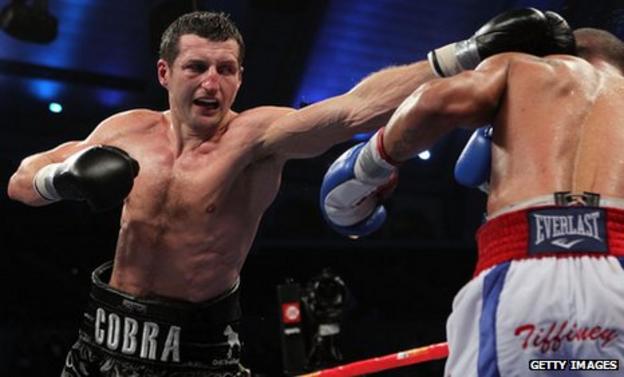 Carl Froch is hoping for a comeback fight in his home city of Nottingham next year after American Andre Ward inflicted only his second defeat.
Kessler, Ward and IBF champion Lucian Bute have all indicated they are happy to fight Froch.
"We're speaking to Lucian Bute and the Kessler fight is obviously a great rematch," said promoter Eddie Hearn.
"But for us it would be nice to do something back in Nottingham."
Hearn, son of Matchroom boss Barry, identified Nottingham Forest's City Ground as the ideal venue for a Froch homecoming fight.
Froch, 34, wants a home fight after boxing overseas in his last three bouts.
"I definitely want to fight back in England, back at home, that's for sure," he confirmed. "But I'll let my promoter address that."
Ward, who added Froch's WBC belt to the WBA belt he already owned, was the winner on all three judges' scorecards in Saturday's fight.
But Hearn believes Froch remains a big draw, saying: "Obviously the Super Six tournament has brought us many things and is a great tournament. But what it does do is take away your power to really plan and map out your own future."
Kessler's promoter Kalle Sauerland wants another fight with Froch, saying: "Froch and Kessler is a fight we've got to see again. Wherever the venue is, it is the sort of fight that is made for fans.
"I would obviously love for Mikkel to get a belt around his waist again, but I also think Froch v Kessler is a fight that doesn't need belts to sell. It's a war."
Bute, a Canada-based Romanian, insisted: "I'm Carl's best opportunity now. Right now I'm his biggest payday but I'm the champion right now and if Carl Froch wants to become a world champion again then he's going to have to fight me."
Froch wants a rematch with Ward but maybe not for his next fight.
"Obviously as a fighter, a warrior and a man who is proud, then I want to try to put it straight. But the fight has just happened, it's been and gone and we can't yet talk about it happening again," said Froch.
"Andre has won the fight fair and square but certainly it's something I'd like in the future."
He added: "I'd definitely take the fight with Bute, 100%. It's a fight I'd want."