Tyson Fury not interested in fight with Audley Harrison
Last updated on .From the section Boxing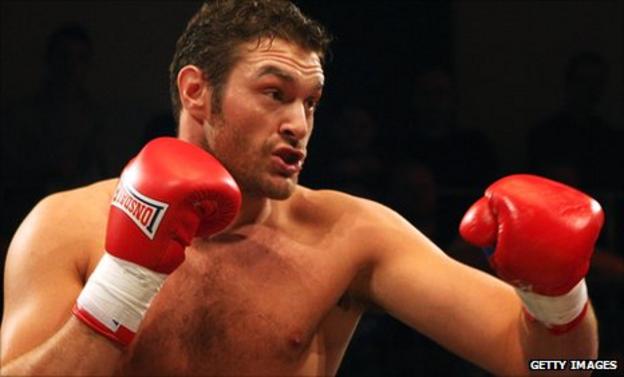 British and Commonwealth heavyweight champion Tyson Fury insists he is not interested in a match-up with Olympic gold medallist Audley Harrison.
Fury, who defends his Commonwealth belt against Canadian champion Neven Pajkic at Manchester's Event City on Saturday, has his sights set on bigger fights.
"Leave him to the dogs," he said. "I don't want to go backwards."
Harrison, 40, who won gold at the 2000 Olympics in Sydney, put on a disappointing performance against Haye in November 2010 when he was stopped in the third round after landing only a single punch.
He was quoted as saying that he wanted to face Fury in a final bout so he could leave boxing in a better fashion.
But 23-year-old Fury says he has his sights set on a world title fight against Ukrainian Wladimir Klitschko or his older brother Vitali.
"I'm hoping to get a world title shot. I'm on my way to the top and I'm past all these people now," he said.
"I want this fight (Pajkic), then maybe another one, and then definitely a Klitschko."
Fury is unbeaten in 16 fights and has a near two-stone advantage over Pajkic, who has an identical record.
"I think he's a good, game opponent and he's going to come for a fight," Fury added.
"But there's only one winner and that's me. I'm going to knock him out.
"He's a tough guy isn't he? You can tell by his face, the state of it, that he's a tough guy. I'm just going to punish him badly for coming over here.
"I'm going to punish him for a few rounds, then I'm going to knock him out."