Frank Warren warns Frankie Gavin he must sort out personal problems
Last updated on .From the section Boxing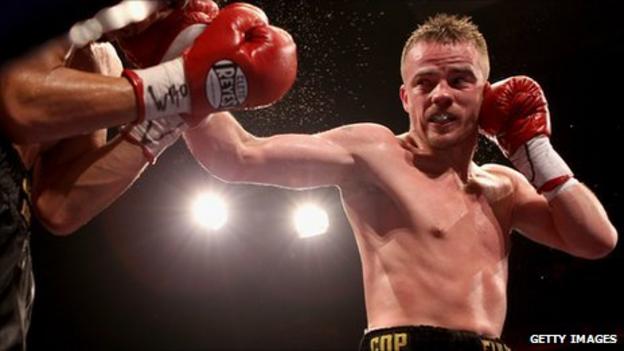 Frankie Gavin must resolve his personal problems before he is given another fight, says his promoter Frank Warren.
Gavin, 26, pulled out of last month's WBO inter-continental welterweight clash with Frank Haroche Horta.
The Birmingham fighter, who has won all 11 of his professional fights, walked out of training with no explanation.
Warren said: "In my opinion, he's not ready to fight and I won't put him on anywhere until I get to the bottom of whatever the problem is."
Warren, who was forced to call in Irishman Dean Byrne to face 31-year-old Frenchman Horta in Manchester, added: "Frankie's got a lot of issues outside boxing that he must overcome before he gets involved in the dangerous sport that he's involved with.
"He's a big talent, but there have a been a lot of big talents in boxing. In this business you don't get by on talent alone.
"You must have dedication because talent will only take you a certain amount of the way. We've seen that with a lot of fighters.
"If you really want to crack it, you must live the life and be prepared to make sacrifices. If you don't do that, you can forget about it."
The Birmingham fighter, England's first world amateur champion, was sluggish in his last two fights against Curtis Woodhouse and Young Mutley.
Both Warren and Gavin have said they feel he may need to drop down a weight.
"To me he's certainly not a welterweight," Warren said.
"There's no reason for him to be fighting these big welterweights when he could be meeting people his own size."