Ryan Walsh demands Norwich card with brothers
Last updated on .From the section Boxing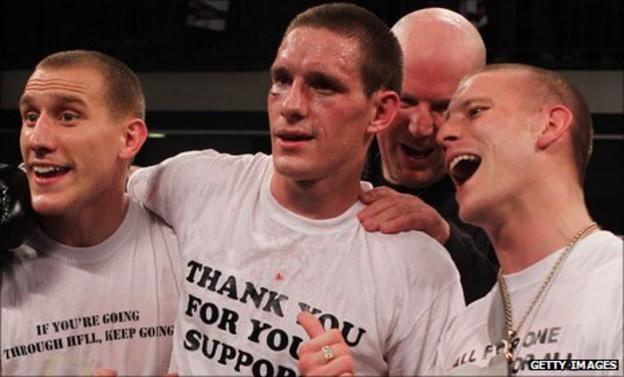 Ryan Walsh has vowed to "never shut up" until he fights alongside his brothers in his home county.
The unbeaten Norfolk trio have only competed on the same card in London.
"We feel we're better as a three, so as long as we manage the situation, we'd love to fight together," 25-year-old Walsh told BBC Radio Norfolk.
"I think we owe our Norfolk fans a show in Norwich, and I'll be pushing for this and I won't shut up about it until I get it."
Walsh takes on Liam Richards for the vacant English Super Bantamweight title on Friday, with brothers Liam, the current Commonwealth Super Featherweight champion, and Michael in his corner.
"We only need one show, we need to show everyone how loud the 'Farmy Army' is going to be at home," added Walsh, who has won 12 out of 12 bouts.
"We take over 300 to London, imagine what we'd get here, at home, imagine the noise.
"I hope after this fight we can do a double or triple with me, Ryan and Michael, get some local fighters in and have a big card here.
"It's special when we fight together, it's '1-0 to the Walshy boys', '2-0 to the Walshy boys' and then '3-0 to the Walshy boys' - they're my favourite chants."
But first he must head to Bethnal Green to face up to Richards, who brings a record of 10-1-0.
"I should be the English champion this time next week," he said.
"To be honest I'm sick of watching him, I've watched about 10 hours of my opponent now.
"In one particular fight, his last fight, he was very awkward, very strong.
"He's going to think he can win, but it's my job to make sure I use my skills, because I think I'm definitely technically better than him."