Bernard Hopkins loses world title to Chad Dawson after bizarre TKO
Last updated on .From the section Boxing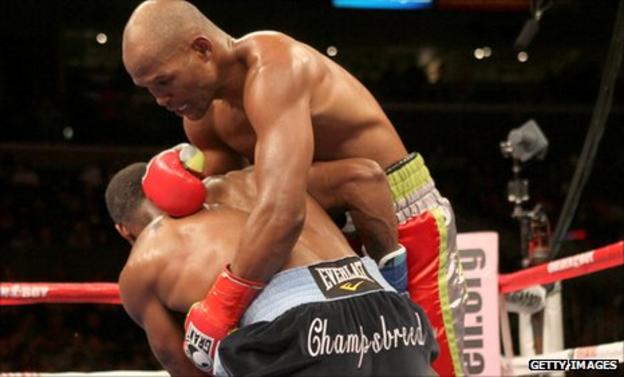 Bernard Hopkins lost his WBC light-heavyweight title after a controversial second-round technical knockout by Chad Dawson in Los Angeles.
Hopkins claimed he was unable to continue after hurting his shoulder when he was lifted off his feet and dumped on the canvas by Dawson.
Referee Pat Russell stopped the fight and awarded the victory to Dawson.
But Hopkins was furious with the decision. He said: "It should have been a no-contest because he threw me down."
It is the first time in his career the 46-year-old has been stopped inside the distance and ends his reign as boxing's oldest world champion.
After an uneventful opening round, the fighters came together late in the second when Hopkins jumped on Dawson's back during a clinch and was thrown backwards on the canvas, landing awkwardly on his left shoulder.
Hopkins lay on the floor for several minutes while his corner attended to him.
Dawson walked over to yell at Hopkins while the crowd in Los Angeles booed the bizarre scene.
But, after several minutes of confusion, the referee ruled Dawson had not fouled Hopkins and handed the 29-year-old victory.
Hopkins said: "I was backing up and he picked me up, both legs, and he threw me down with his shoulder and that's when it got hurt.
"This isn't mixed martial arts.
"I told the referee I would continue with one arm but he stopped the fight. He never told me that, if I stopped fighting, I would be disqualified.
"They set me up. Dawson was just in there to rough me up. That was a blatant foul and it should be no contest, not a disqualification."
Dawson was also upset by the decision to end the fight - and accused Hopkins of play-acting.
"He has disappointed a lot of fans, Bernard cut my night short," Dawson said.
"He was faking. He says he's a 'gangster'. He isn't a gangster - he should have got up and fought.
"I'm sorry for the disappointment for the fans. He ran from me for three years. I know he didn't want this fight."