Nathan Cleverly wants to emulate Ricky Hatton's support
By Chris Latchem
BBC Sport
Last updated on .From the section Boxing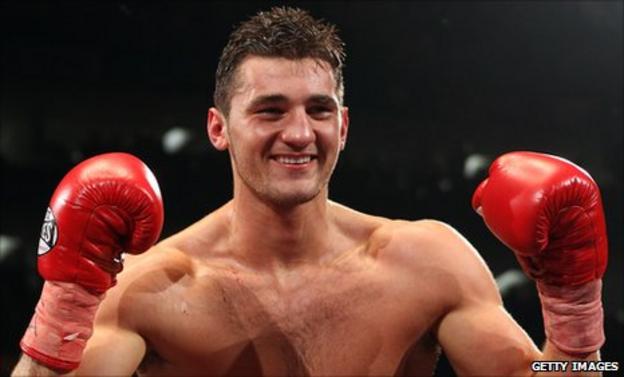 Nathan Cleverly believes he is ready to replace Ricky Hatton in the hearts of British fans.
Amir Khan is in action this weekend but WBO light heavyweight champion Cleverly wants to emulate the success of Hatton
He said: "There's a door open for a new guy to take on Ricky's mantle. It's the kind of pressure I'd thrive on."
Cleverly, 24, became world champion without throwing a punch when the reigning champion Juergen Braehmer failed to turn up for their title fight in May.
Until last year Cleverly had boxed part time alongside studying for a mathematics degree at Cardiff University. Now graduated, boxing has become a full-time job and the Welshman is eager to dominate the light heavyweight division.
He told BBC Sport: "It's a tall order, you have to be a true champion.
"My ambition is to get the big unification fights as early as I can. I know If I fight those guys I can definitely win.
"As soon as I unify the division, regardless of how young I was I'd be happy to say I've done all I can with boxing."
Cleverly understands what it takes to become a popular champion as he considers Joe Calzaghe a close friend and mentor. Like Hatton, Calzaghe won everything there was to win in his weight division and was hugely popular with fans.
"Joe reached the heights in boxing," Cleverly said.
"He became world champion and went on to unify the super middleweight division so he's a massive influence. He was a true champion and proved his class. That's something I can look at and say I want the same."
First up for Cleverly is a likely mandatory defence of his WBO title in September before, he hopes, a fight against domestic rival Tony Bellew.
If he overcomes those obstacles, then he can begin his quest to emulate Hatton and Calzaghe and win all four world titles.
He added: "I want to defend my title, unify the division and then you can retire happy knowing you fulfilled your destiny."
Hatton had a passionate following of fans that followed him across the Atlantic. Cleverly is also keen to fight in Las Vegas but is desperate to fight in front of his home fans.
"Fighting in the Millennium Stadium against a big American name - there's something magical about that," he said.
"I'd love to box in Vegas and think that will happen. But a world title fight in front of your home fans, that's the dream, that would be special."