What next for WBO super-featherweight champ Ricky Burns?
By Keir Murray
BBC Scotland
Last updated on .From the section Boxing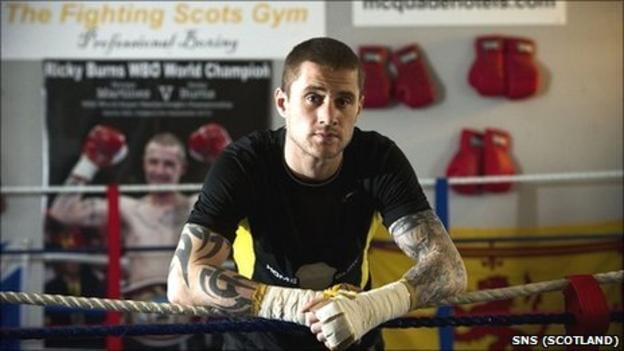 It's not often your sympathies lie with the victor after a boxing bout, but for anyone with an interest in Ricky Burns' career that sense was undeniable after his stoppage of Nicky Cook in Liverpool on Saturday.
Burns had trained hard for the third defence of his WBO super-featherweight title at the city's Echo Arena, a televised event intended to increase his appeal outside Scotland where he has become, in his own understated way, a national sporting favourite.
A crunching right to his opponent's body after six seconds put the result beyond doubt, even if it took two further standing counts in the 87 seconds that followed for the Dagenham man's corner to throw in the towel.
Brave Cook, 31, was taken in agony from the ring on a stretcher and transferred to hospital where he was diagnosed to have suffered from a prolapsed, or slipped, disc.
It is most likely the end of the former world champion's career for he has been plagued by back pain.
"It was out of my control, not my fault," 28-year-old Burns told BBC Scotland.
"I trained for a hard 12 rounds, I'm sure he was up for the fight but once he felt the power of that first punch he didn't want to know.
"I hope people see that it was a good shot. As soon as the punch landed his legs went.
"It was a peach. I felt it going right up my arm."
Less than a year ago, Burns could walk through Glasgow unnoticed.
However, since he beat Roman Martinez to win the WBO super-featherweight title, his life has changed.
He is frequently on TV and his image has been plastered on everything from advertising billboards to giant screens at Hampden Park.
Burns is modest, likeable and embarrassed by the attention his talents have produced.
But no-one should doubt the deadliness of his fists or the ferocity of his ambition.
"The tactics for the fight were to go out from the start and to start banging them in to the body," he added.
"We had been working on that shot a lot in the gym.
"We do a lot of work with the body belt. We had been planning to soften him up. I wouldn't be surprised if there is a wee broken rib there."
Burns, then, was denied the chance to shine in Liverpool, a source of frustration for his promoter Frank Warren, who will now plot the Coatbridge fighter's next move.
Burns' trainer Billy Nelson describes Warren as "the best promoter in the world" and he hopes the Englishman can secure a fight with Mzonke Fana, the South African fighter ranked second, one above Burns, by Ring Magazine.
The Scot, with a record of 32 wins and two defeats, grew up watching the Rocky films and wants the vacant so-called "Rocky belt" awarded by the publication to the best fighter in his division.
"He's the man who can get the fights and we believe he will actively try to get us this fight next time," Nelson said of Warren.
Burns says he will have a few weeks' rest before resuming training for a bout in the autumn, with a rumour doing the rounds that Edinburgh Castle could stage one of his fights in future.
"I have been told I'll be out again at the end of September or the start of October," said Burns.
"I'll be keeping my fingers crossed that it is that Ring belt I am going for.
"I have always said a boxing ring is a boxing ring but it is always good to have the fights up in Scotland.
"If it was the Fana fight, I think we could get somewhere big like that [Edinburgh Castle] sold out, but nothing has been confirmed yet."
A bout with Fana, while it would allow WBO champ Burns to fulfil a childhood ambition, might not be his best bet as it would not deliver one of the three other official titles.
The South African was recently stripped of his IBF title by that organisation for failing to make a mandatory defence in time against Argenis Mendez of the Dominican Republic.
If the Burns camp made unification their goal, then Japan's Takahiro Ao, the 27-year-old southpaw holder of the WBC version of the belt at the 130lb limit, is a boxer who should be in their sights.
Or they could try to line up a contest with Ao's compatriot Takashi Uchiyama, the 31-year-old WBA champion.
Of course, Burns could opt for a bout with a WBO opponent before a defence becomes mandatory: America's Adrien Broner and Puerto Rico's Luis Cruz are ranked immediately behind the Scot.
"I'm really big for the weight but all the power has come recently," said Burns after the Cook fight.
"We've been working on a lot of things in the gym like sitting down on punches and going forward a lot more, getting more aggressive."
If Burns' career continues on this thrilling trajectory and he can add another title, then he would be well placed to use his size and power to add to his haul in the lightweight division, an increase of five pounds.
If he were to achieve that, Burns would not only be a national favourite - but a national treasure.