Vitali Klitschko wants David Haye fight
Last updated on .From the section Boxing
WBC heavyweight champion Vitali Klitschko has told BBC Sport he would be prepared to fight David Haye.
"I was the happiest man in the world that my brother beat him but I'm unhappy that Wladimir [was not able] to send him to the floor," said Vitali.
"That did not happen because it's difficult when someone is running away. Maybe in the future if I have a chance to send him to the floor, I will."
But Vitali added that he and his brother - who could yet face Haye in a rematch - no longer have as much motivation to take him on since he no longer holds a world title.
By beating Haye, Wladimir added the British fighter's WBA belt to his IBF, IBO and WBO titles.
"It was big motivation to fight David Haye because he had the one title we didn't have, but now we have all the titles in the heavyweight division," said Vitali.
"Sometimes boxing fans are confused about who is the world champion, but now no questions, the world champion is Klitschko. That it's two brothers is not important.
"One of the boxing experts said right now that there is the biggest crisis [in boxing]. The name of that crisis is Klitschko brothers. We have a lot of power. We have a couple more years dominating at heavyweight."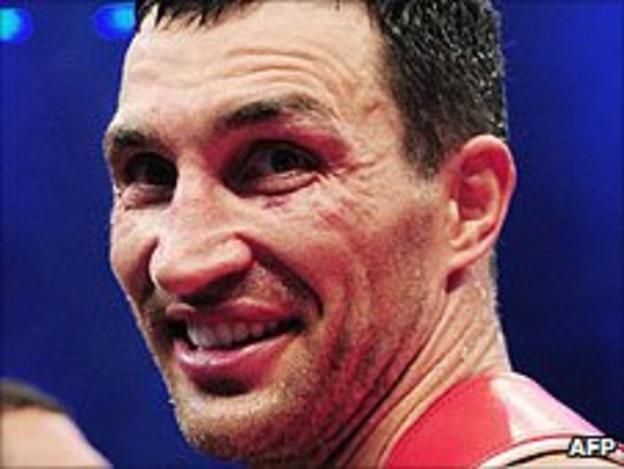 After his defeat by Wladimir, Haye spoke of his desire to avenge that result, but the Ukrainian has questioned his beaten opponent's motivation.
"I don't really believe he wants to have this rematch because the end of the fight won't be changed in any way," said the 35-year-old.
"He's talking about finances because it's a good way to make more money. Well, it's not just about money in sport. Will I concede a rematch? Maybe yes, maybe no. I have some time to think about it but there are good names such as Dereck Chisora and Tyson Fury, new fighters who haven't lost and have all their ambitions.
"I believe David Haye got his 15 minutes of fame in the last two years on the cost of the Klitschko brothers' name, because that's the way he was promoting himself.
"I think he has talked about his retirement by October and I believe his dream is coming true. He can retire and go to Hollywood like he has been dreaming about."